Frank Capra | 1897 - 1991
---
NOTE: This website, after a hiatus of several years, is now being put back online. Please check back as updated pages are added.
---
Just released 4K It's A Wonderful Life on HD Disk
It's a Wonderful Life [4K Blu-ray] - Amazon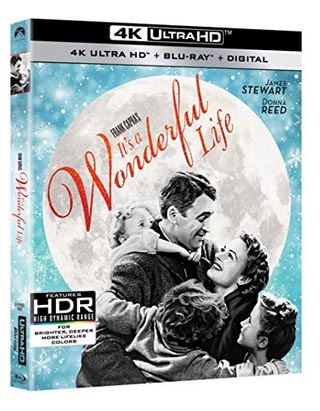 Included extras:
Restoring a Beloved Classic (13:03)
Secrets from the Vault: It's a Wonderful Life (22:11)
It's a Wonderful Wrap Party (8:04)
Colorized version of the film
---
18th Anniversary of It's A Wonderful Life theatre production in Chicago
Oct 31, 2019: Story and info about the American Blues Theater production at Broadway World
---
Frank Capra 1974: The state of movies
San Diego Union-Tribune republishes older interview online.
---
4K Remastered Bluray of Mr Smith Goes to Washington
One of the top five of acknowledged Capra masterpieces is the 1939 Jimmy Stewart film Mr Smith Goes to Washington. This film originally started off as a sequel to Mr Deeds Goes to Town, but morphed over time into a Jimmy Stewart star vehicle with Jean Arthur.
Sony has packaged the remastered film into a booklet/disc package. Here' s the AMAZON.COM promotional blurb:
"Jean Arthur, James Stewart and Claude Rains star in Frank Capra's MR. SMITH GOES TO WASHINGTON, the award-winning 1939 classic about an idealistic, small town senator who heads to Washington and suddenly finds himself single-handedly battling ruthless politicians out to destroy him. When Frank Capra decided to film the novel "The Gentleman From Montana", he ran into an obstacle Director Rouben Mamoulian owned the rights to the story. Unwilling to sell, Mamoulian eventually traded the material to Columbia on the condition that he be allowed to direct Golden Boy. As Capra began working on the film, now called MR. SMITH GOES TO WASHINGTON, it was suggested that Gary Copper, the star of Mr. Deeds Goes to Town, take the lead. Capra selected Jimmy Stewart instead and the film solidified Stewart's movie career, garnering him his first Academy Award® nomination. Receiving a total of eleven 1939 Oscar® nominations (including Best Picture and Best Director), and winning one (Best Motion Picture Story), MR. SMITH GOES TO WASHINGTON is considered one of Capra's, Stewart's and Columbia's finest films. It also marked the end of an era. It was Capra's final film for the studio."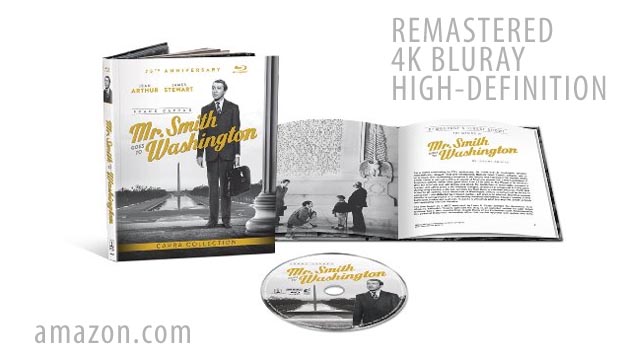 ---
It Happened One Night coming on Bluray
Criterion has put together a bountiful Bluray transfer of the film that made Frank Capra a name that could do anything in Hollywood in the 1930s. Originally dismissed as nothing particularly special by film critics when the movie was released in 1934, the popular groundswell made the film a gigantic hit and pushed Columbia Pictures up to the front suddenly with five big Academy Award wins that year: Best Picture of the Year, Best Actor, Best Actress, Best Writing and Best Director.
Listed features for It Happened One Night on Bluray
New 4K digital restoration, with uncompressed monaural soundtrack on the Blu-ray
New conversation between critics Molly Haskell and Phillip Lopate
Frank Capra's American Dream, a 1997 feature-length documentary
Director Frank Capra's first film, the 1922 silent short The Ballad of Fisher's Boarding House
American Film Institute tribute to Capra from 1982
Trailer
PLUS: An essay by critic Farran Smith Nehme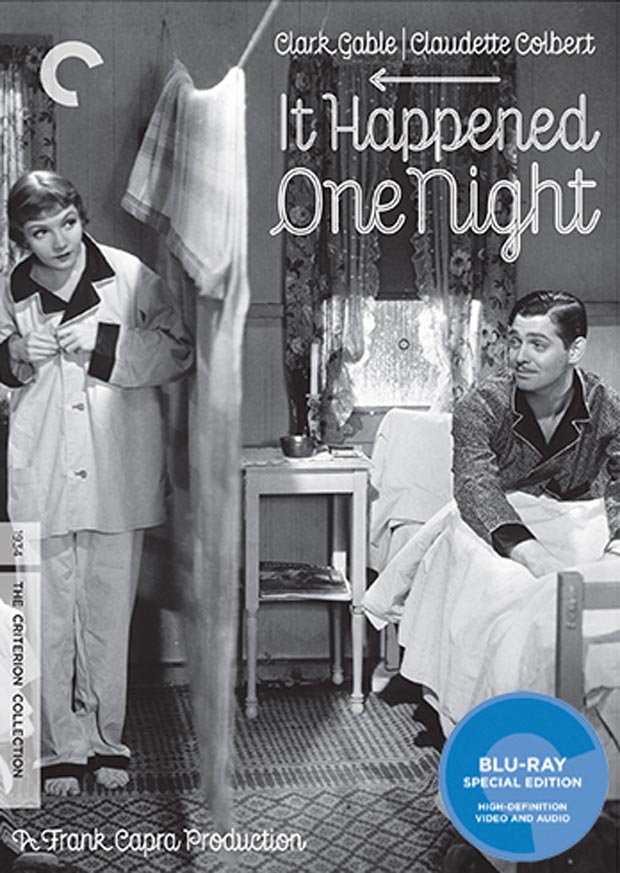 Links:
Criterion Page about the coming Bluray
Cinemagraphe.com review of It Happened One Night
---
---
Paramount will fight attempt at "Wonderful Life" Sequel
Nov 21, 2013 A planned sequel to It's A Wonderful Life (titled "It's A Wonderful Life: The Rest of the Story") would feature Karolyn Grimes (who played Zuzu in the original film) and has a reported budget between $25 - $35 million, has run into a giant legal snag, besides the negative press reactions to the announcement. Complete article at the Boston Herald:
"A studio spokeswoman said Wednesday that Paramount would fight the proposed follow-up to the 1946 holiday classic starring Jimmy Stewart as George Bailey, a desperate family man who imagines during Christmas time what his town would be like if he'd never been born.

...Bob Farnsworth, president of Nashville, Tenn.-based Hummingbird Productions, told trade publication Variety that the film was set for release in 2015 and would star Karolyn Grimes, who played Bailey's daughter in the original film.

...Tom Capra, son of "It's a Wonderful Life" director Frank Capra, who died in 1991, said the Capra family does not support a sequel — and they don't think their father would have, either.

"If he was still alive, he would have called it ludicrous," said Tom Capra. "Then, I think we would have called his lawyer."
---
Leonard Maltin presenting special screening of Lady for A Day at the Parmount Theatre in Austin, Texas on Friday May 24
Using Capra's own screening print of Lady for A Day, Film Historian and writer leonard Maltin will present the film with a questiona nd answer period on May 24, 2013.
From the Paramount Theater web site:
"Renowned film critic and historian Leonard Maltin joins us to present a rarely seen Frank Capra film in glorious 35mm followed by a conversation about classic films and Maltin's career.

Maltin has been an outspoken fan of Capra's 1933 gem, Lady for a Day, for many years and was a great supporter of the pristine BluRay release of the film last year. Now, Maltin joins the Paramount in bringing you a very rare screening of the film in 35mm, courtesy of the Frank Capra estate and their generous loan of the print from their vault.

Lady for a Day tells the poignant story of Apple Annie, an impoverished, elderly Times Square vagrant who pretends to be a member of high society in the letters she writes to her beloved daughter in Europe. When she learns that her daughter is bringing her fiancé, a member of the Spanish aristocracy, to New York City, Annie must find a way to make her false tales of high society a reality. If you usually need a tissue for It's a Wonderful Life, you'd better bring the whole box.

After the film, Maltin will join us to discuss his career, Lady for a Day, and other wonderful classic films like it that are becoming increasingly unavailable with each passing year.

Don't miss this rare opportunity to see the man in person and talk classic films with the foremost experts on the subject!"
The Paramount Theatre Web Site
---
Capra's Donovan Affair resurrected from silence
APRIL 26, 2013
Los Angeles Times article on the efforts to make Capra's 1929 first "all talking film" watchable after decades of silence:
"The film has drifted into obscurity for one simple reason, Goldstein said: "The sound doesn't exist."

In the early days of talkies, the studios used a sound-on-disc system such as Warner Brothers / First National's Vitaphone. Theaters would sync the discs to the film.

The Library of Congress has the only known copy of the film but not the eight discs that constituted the soundtrack. Goldstein believes they went missing a long time ago because the film was never revived after its initial release.

The movie, he noted, "makes no sense without sound."

But now it does because Goldstein came up with a way to get around the problem. He uses live actors, sound effects and piano accompaniment to re-create the lost soundtrack as the film unspools on the screen. Think of it as a combination radio show / film presentation."
The challenging problems of no script (what they found to use is a New York State censor's file with a script that's only 70% accurate) and no soundtrack renders parts of the film indecipherable, but the producer of the project has enlisted voice actors to help 'read the lips' of the actors on the film, and they have been steadily recreating the movie's story from this.
---
"Mr. Capra goes to Hollywood"
Program episode (no broadcast schedule mentioned, though) description at the Radio Times:
"Astute contributors, including Jeanine Basinger, curator of the Frank Capra archives at Wesleyan University and film critic Michael Newton, assess the enduring appeal and influence of films such as Mr Smith Goes to Washington and It's a Wonderful Life, with anecdotes from stars like James Stewart providing further insights.

But Capra was not without his detractors and journalist Andrea Seabrook considers the role of the adjective "Capraesque" in contemporary American politics. Is it thanks to him we have Republican politician Sarah Palin, perhaps? This should be interesting."
Radio Times - Mr Capra Goes to Hollywood
---
2013 Fallbrook Film Festival gives Capra Award to Kurt Kuenne
From the Union-Tribune San Diego News:
"The ceremony made room to remember Frank Capra, who lived in Fallbrook for 30 years, and to recognize Jerri Patchett, a local volunteer who was given the festival's Patron of the Arts Award.

"It makes sense to me that Frank Capra would have lived in Fallbrook," Patchett said while accepting the honor. "Capra and Fallbrook share a common sensibility — the idea that good will triumph in the end, but not without a lot of hard work."

Frank Capra III, grandson of the famed "It's a Wonderful Life" director, was on hand to bestow this year's Capra Award on a man named Kurt Kuenne, who directed the winning film, "Shuffle."

The Fallbrook Film Festival Web Site is here.
See a photo of the Bronze Award (it's in the shape of a disc), which features Capra's image, at the Fallbrook Village News Online
---
The Donovan Affair shows April 27, 2013 at TCM Festival
The TCM Classic Film Festival 2013 will screen Capra's Donovan Affair (1929) with sound from Bruce Goldstein and company. Here's the official info:
"When an inspector investigates a murder at a fancy dinner party, the suspect list dwindles as more guests are killed in Frank Capra's comedic murder-mystery. To replace the long-lost soundtrack, this print—courtesy of the Library of Congress Film Archive—will be shown with a presentation of live dialogue and sound effects produced by Film Forum's Bruce Goldstein."
When: 12:15PM Egyptian Theatre (1929) (1 hr - 23 min ) 35mm
---
Short Film about Capra's 1935 Depression
Will screen at the June 2013 Manhatten Film Festival
"Two Hours in the Dark" recounts a dark period for the prolific Hollywood director. After winning a grand slam of Oscars in 1935 for the comedy "It Happened One Night" (a film formula that has been duplicated repeatedly since its release) Capra went into a depression. His health suffered greatly, consumed about to follow up his hit film."
Read more about the film at wilmonfilms Blog
---
"Lady for A Day" on Blu-Ray
Capra's 1934 "Lady for a Day" onto hi-resolution Blu-Ray disk is now out:
"One of Leonard Maltin's 151 Best Movies You've Never Seen gets a high-definition release in March.

In an early announcement to retailers, Inception Media Group has revealed that 'Lady for a Day' will have a Blu-ray on March 20."
Lady for A Day was produced from May to June, 1933, and released September 13, 1933. The new Blu-Ray release is expected to contain commentary tracks featuring remarks by Frank Capra Jr. and information by film historian Scott Eyman. "Lady for a Day" is based on the short story "Madame La Gimp" written by Damon Runyon published in Hearst's International-Cosmopolitan (Oct 1929).
Lady for a Day on Blu Ray disc amazon.com
Standard DVD being released, amazon.com
---
It's A Wonderful Life "still reels them in"
It's A Wonderful Life "still reels them in" Article at USA Today on the phenomenon of Capra's most popular movie and the town's namesake of Bedford Falls:
"And although the film's cozy setting was actually an RKO soundstage in Encino, Calif., the real-life mill town of Seneca Falls, N.Y. happily milks its resemblance to fictional Bedford Falls with an annual December celebration.

This weekend's shindig kicks off Friday with appearances by former child actress Karolyn Grimes, who played George Bailey's daughter Zuzu, and Carol Coombs-Mueller, her older sister Janie. Also on tap: An Uncle Billy's scavenger hunt, a Ma Bailey's Hot & Hearty Cook-Off, and a Dance by the Light of the Moon dance contest. (Alas, the recently renovated Hotel Clarence, named after Bailey's guardian angel, is already booked.)"
---
Capra's "Stock Company"
Extremely brief item at the Los Angeles Times on Capra's erstwhile "stock company" which only has mention of Barbara Stanwyck, Gary Cooper and Bing Crosby (what, no Jean Arthur?)
A variety of actors worked with Capra repeatedly (also non-actors), such as:
Jack Holt (Submarine 1928, The Donovan Affair 1929, Flight 1929, Dirigible 1931)
Thomas Mitchell (Lost Horizon 1938, Mr. Smith Goes to Washington 1939, It's a Wonderful Life 1946)
and non-actor Joseph Walker who did cinematography on many Capra films, such as Submarine 1928, Rain or Shine 1930, The Miracle Woman 1931, Platinum Blonde 1931, The Bitter Tea of General Yen 1933, Lady for A Day 1933, Lost Horizon 1937, etc.
---
1934 Review of 'It Happened One Night'
The film is now accepted as a high-quality comedy and the beginning of Capra's hot streak as both a oscar winner and a marquee name in and of itself. However, when the film was in realease, there was some confusion how what looked like a run-of-the-mill 'road comedy' was so good. For example:
"The cast was particularly sound from top to bottom. Claudette Colbert sensed what was required of her, and did it very well, though I do not care for her much as a person-not as much in fact as for Walter Connolly, who was delightful. Clark Gable was the outstanding feature, managing to be a rowdy and a perfect gentle-man and a newspaperman and a young lover, all in the same breath and the most breezy and convincing manner imaginable."
The entire 1934 article The 1934 article here
---
Capra and the travails of Capitalism
The Financial Times has an article by Paul Betts examining films at this years Cannes Festival, and uses Capra as a standard to make comparisons with Oliver Stone and Jean-Stéphane Bron. financialtimes.com
"Frank Capra made a number of films depicting the greed and self-interest of businessmen and politicians alike, giving capitalism a bad name. Remember Mr Deeds goes to town or Mr Smith goes to Washington, to name just a couple of his classics.

This month, three film-makers, two Americans and one Swiss, have gone to the Cannes Film Festival to show their films that roughly three-quarters of a century later seem to contain the same message. Like Mr Capra, who happened to have been a conservative and a Republican, these films - a fiction and two documentaries - are not a rant against capitalism as such."
---
Early Capra showing in San Francisco
Sunday, January 24 2010: Early Capra in the San Francisco Bay Area (total running time 67 min., 1921-2). Before "Capraesque": Early Frank Capra (PFA, 2:00).Info online at eastbayexpress.com
---
"Mr Smith Goes to Washington" and film politics
Film School Rejects contemplates the Jan 2010 Supreme Court Ruling on first amendment rights, and the reverberations of Capra's film on the whole matter of political movie making:
"...Today, in a courtroom that looks over the Capitol Building, Justice Anthony Kennedy – a slight, bookish man with thin glasses – evoked Frank Capra's enduring classic Mr. Smith Goes to Washington while giving the Opinion of the Court about the freedom of speech inherent in the corporate structure. Read more at Film School Rejects: Why Today's Supreme Court Ruling Matters To Film Fans - Film School Rejectsend"
Variety also takes a look at the ruling, and on Justice Kennedy's invoking of the Capra film in discussing the case.
---
TCM schedules long "Capra Day" on December 7, 2009
Turner Classic Movies will also be running a long list of Capra films throughout December (see schedule below listing the various films).
---
18th Anniversary of Capra's death marked by "It Really Was A Wonderful life"
Biographical article about Capra at examiner.com by Pamela Miller:
"It's the 18th anniversary of the death of one of the world's most beloved directors, Frank Capra. This man brought us some of the most recognizable and cherished films in cinema history. Throughout his lengthy career, Capra earned three best director Academy Awards out of six nominations. Most know him as the director of everyone's favorite Christmas movie, It's a Wonderful Life, but his Hollywood career spanned four decades. In about forty years, he directed almost fifty films."
---
"DIRIGIBLE" and "FLIGHT" to play on TCM in December
Twin aviation films made early in the career of Frank Capra are to be screened on TCM in December. "Dirigible" (1931) and "Flight" (1929) will play on December 14 at 12 midnight and Flight at 1:45 AM. Dirigible has Fay Wray (who later married veteran Capra screenwriter Robert Riskin) and tells the tale of a botched expedition into the Antarctic that results in a dangerous rescue attempt by airship (i.e., a zeppelin). Flight is a silent film that is rarely seen.
---
Frank Capra Birthday on May 18: TCM running rare "Rain or Shine" on that day
This information has moved to this page here
---
---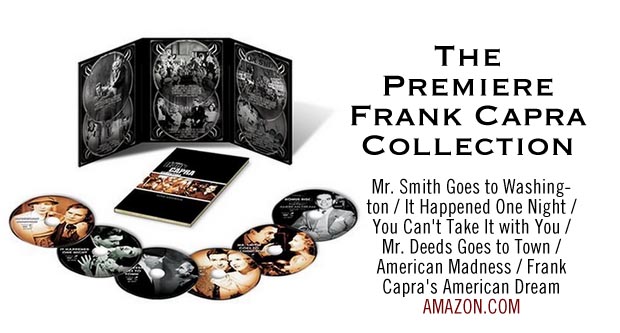 AMAZON: The Premiere Frank Capra Collection (Mr. Smith Goes to Washington / It Happened One Night / You Can't Take It with You / Mr. Deeds Goes to Town / American Madness / Frank Capra's American Dream)
---

---