ARCHIVE PAGE 1
Previous posts that appeared on the front page of this Capra Site
---
"Capra Evening " on TCM for December 2, 2006
Set of five films to run back-to-back (times listed below Eastern Standard)
Mr. Smith Goes to Washington (1939) 8:00 PM
An idealistic Senate replacement takes on political corruption. Cast: James Stewart, Jean Arthur, Claude Rains. Dir: Frank Capra. BW-129 mins, TV-G, CC
You Can't Take It With You (1938) 10:15 PM
A girl from a family of freethinkers falls for the son of a conservative banker. Cast: Jean Arthur, Lionel Barrymore, James Stewart. Dir: Frank Capra. BW-126 mins, TV-G, CC
American Madness (1932) 12:30 AM
A banker fights to keep his independence and protect his customers. Cast: Walter Huston, Pat O'Brien, Kay Johnson. Dir: Frank Capra. C-75 mins,
Lady For A Day (1933) 2:00 AM
A gangster helps an old apple-vendor pose as a society woman to fool her visiting daughter. Cast: May Robson, Warren William, Guy Kibbee. Dir: Frank Capra. BW-88 mins, TV-G
Arsenic And Old Lace (1944) 4:00 AM
A young man about to be married discovers the two aunts who raised him have been poisoning lonely old men. Cast: Cary Grant, Raymond Massey, Peter Lorre. Dir: Frank Capra. BW-118 mins, TV-G, CC, DVS
---
WONDERFUL LIFE DVD
Restored It's A Wonderful Life DVD released
The restored 60th anniversary DVD of It's A Wonderful Life has

been released. It features a much improved picture quality and two featurette films. The first is "The Making of It's A Wonderful Life" hosted by Tom Bosley, and the second a short film hosted by Frank Capra Jr., using archival interview materials about his father and the impact of the movie. Both featurettes have interview material with Jimmy Stewart. DVD also has the original 1947 theatre release trailer. The sound is Dolby digital with English and French versions.
The DVD is being sold in a number of outlets. Here is a sale link to amazon.com.
---

Jane Wyatt, star of Lost Horizon, has died
It is being reported that actress Jane Wyatt, who starred in Capra's 1937 film Lost Horizon, has passed away. A tribute by Tom Shales at the Washington Post is Here. Reuters has an obituary article here. Wikipedia has a biography article here. Jane Wyatt, August 12, 1910 - October 20, 2006.
We have a page on the film Lost Horizon under construction. We will be adding information on Wyatt's contribution to the film as we gather information.
---
Updates
New photograph added to the page on It's A Wonderful Life
New photo on the Meet John Doe page, too.
---
Capra's Oscar Record
Speculation has begun about director Clint Eastwood winning a director's oscar for the October film Flags of Our Father (Official web site here.) Eastwood already has two. This brings to mind the record for directors oscars: Frank Capra and William Wyler won 3 each, John Ford won 4.
---
Our Page on Capra's LADIES OF LEISURE updated
New information and photo images added for the 1930 Capra film starring Barbara Stanwyck here. (We've also began a page - incomplete at the moment - on the 1932 Capra film with Stanwyck Forbidden. )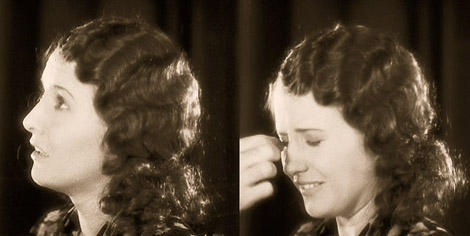 ---
Capra interview in new Dick Cavett DVD

Dick Cavett's interviews with "Hollywood Greats" have been collected into a 4-disc box set which includes Frank Capra (also; Katharine Hepburn, Fred Astaire, Bette Davis, Groucho Marx, Debbie Reynolds, Kirk Douglas, Alfred Hitchcock, Marlon Brando, Mel Brooks, Robert Altman, Peter Bogdanovich, Robert Mitchum, John Huston and Orson Welles.) PURCHASE AT AMAZON.COM
Of principal interest to many will be Cavett's interviews with people like Hepburn and Brando, who rarely ventured into TV land. The notoriously press-shy Hepburn, 66 at the time (1973), is seen checking out the studio and making picky remarks about the rug and furniture before agreeing to do the do right then and there, with no audience; she ends up holding forth for two entire shows (plus bonus material), revealing herself to be witty and sophisticated, as well outspoken, practical, and entirely in charge ("You keep interrupting," she chastens Cavett, "Just shut up..."). Brando, a year removed from The Godfather and Last Tango in Paris, agreed to appear only if he could discuss the plight of American Indians (several of whom are also on hand). Cavett, a sharp, self-effacing, well-prepared host, went along, little suspecting that the whole interview would be an exercise in teeth-pulling, with Brando refusing to discuss his career at all; his dismissal of his stage and screen work as "irrelevant" is laughably disingenuous, considering that were it not for his acting, he wouldn't have been invited on the show in the first place. On the other hand, Davis is grand, saucy, full of stories about Hollywood's Golden Age--everything one wants in a movie star. Astaire is charming, showing that even at age 71 he was a great dancer and good singer. Welles, the man who married Rita Hayworth, had dinner with the pre-Fuhrer Adolf Hitler, and made Citizen Kane, is worldly, erudite, expansive (in every sense--he's twice Cavett's size), and probably the most entertaining of the lot. And Hitchcock is marvelous, showing off his dry, peculiar wit and revealing several tricks of the trade (it took 78 edits to make the 45-second shower scene in Psycho).
---
Updated pages "Wonderful Life" and "General Yen"

Two film pages have been updated: the page on Capra's famous holiday movie has been updated and expanded considerably. Read about It's A Wonderful Life here. Also updated is the page on the 1933 Columbia Pictures Barbara Stanwyck film The Bitter Tea of General Yen (here) which was directed by Capra. The film also starred Swedish actor Nils Asther. It may be the most unusual Capra film in that it contains much of his "mature" style but is set in an exotic location and seems to show some influence from the Josef Sternberg/Marlene Dietrich movie Shanghai Express from a year earlier. A lot has been written about the inter-racial story of General Yen, and about how Capra plays with racial stereotyping, more or less trying to beat it at its own game.
---
New 60th Anniversary DVD It's A Wonderful Life

Paramount is set to release a deluxe 60th anniversary edition of It's A Wonderful Life in October on DVD. There isn't an official notice about this on the Paramount web site, but I have heard that the release may include both the original "uncut" 130 minute black & white version and one of the 1980s "colorized" versions, also a feature documentary about the movie, plus release trailers. Hopefully it will have audio commentary from Frank Capra Jr. or perhaps Capra scholars.
Amazon.com is using discounted pricing on pre-orders for this October 2006 DVD release:
PURCHASE 60TH ANNIVERSARY DVD
DVD $14.99 ($19.99 retail.)
Our page about the movie IT'S A WONDERFUL LIFE is here.
---
Glenn Ford, star of Pocketful of Miracles, has died
The Standard, The New York Times, Wikipedia article, and also see the fan site GlennFordOnline.com.
[Below: screenshot of the Standard Article. Click to enlarge]

Below, from the Standard obit:
A gifted horse rider who in childhood was stable boy for Will Rogers, Ford appeared in dozens of Westerns of varying quality.

Though never nominated for an Academy Award, he was inducted into the Hall of Fame of Great Western Performers in Oklahoma City in 1978.

In the early 1960s, Ford was at the peak of his fame, and he starred in and helped produce Pocketful Of Miracles (1961), a remake of Frank Capra's Lady for a Day. Capra came back to direct Ford, but the relationship was tense after the actor insisted on casting his then-girlfriend, Hope Lange, as a brassy nightclub owner.
---
The Capra "Hero" versus the John Ford "Hero"
Washington Post takes on the problem of the "John Ford hero" versus the "Frank Capra hero" in a short essay on what's different about manliness in modern films:
Mel Gibson, who played an action hero, seems to have morphed into director, producer and madman, melting down in a pool of seething angers and resentments. Then there's Tom Cruise, recently dumped by Paramount for (1) personal oddnesses and (2) delivering a movie that may only make $400 million worldwide when everyone knew it should have made $500 million. Down but not out, each actor, you can bet, will hasten to a film highlighting redemption, earnestness, decency and love of fellow man. Don't bet on either guy's next movie to co-star a submachine gun. In short, they're no longer going to be John Ford heroes but Frank Capra heroes. Mel in "Mr. Goldstein Goes to Washington." Cruise in "Meet Tom Doe, Episcopalian Social Worker.
---
---