ARCHIVE PAGE 3
Previous posts that appeared on the front page of this Capra Site
---
Page on Capra's Ladies of Leisure updated
Our page on the 1930 movie which was an important milestone for Capra's directing career, and also the film that turned Barbara Stanwyck into a Hollywood star, has updated here.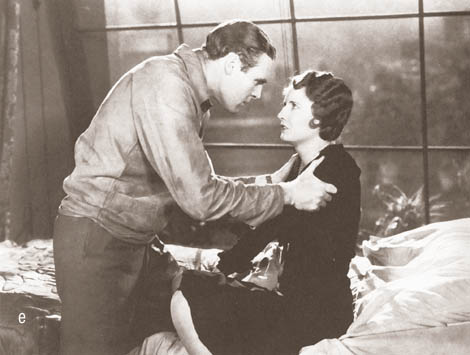 A 1930 movie still of actors Ralph Graves (who starred in a number of early Capra films) and a 22 year old Barbara Stanwyck.
---

Jimmy Stewart, Jean Arthur with Capra on the set of Mr. Smith
Our page on Capra's movie is here.
---
Article about Capra at the Austin Chronicle
An article at the Austin Chronicle newspaper by the editor Louis Black titled "Page Two: Persistence of Revision: Fascism, Frank Capra, and how legend becomes history" talks about Capra, especially the film Mr. Smith Goes to Washington:
The first time I watched Frank Capra's Mr. Smith Goes to Washington, it was on television, and I was 11. I remembered being devastated at the end. Jefferson Smith (Jimmy Stewart) was not elected as a senator but was appointed by the governor after the seated senator died – very specifically because Smith was such a naive idealist that the powers that be figured he would be an easy dupe. At the end of the film, Stewart makes a principled stand, waiting to hear from the people in his state. He does, but not in the way he had hoped.

The political machine in his state, through thugs and violence, crushes the people's rebellion against it. Marches are turned back with blasting fire hoses, and police break up rallies. The members of the youth clubs Smith used to head turn to their offset press to print an accurate version of what is happening. It's a stirring moment: the kids and their press. Then they take to the streets on foot and bike to distribute the publication to the state's citizens. They are brutally beaten, their papers destroyed. Meanwhile, the state's mainstream media becomes a propaganda machine against Smith.

...Even at the age of 11. I found no satisfaction in victory by default. Instead, deep down, what resonated with me was the explicit portrayal of the corruption of American politics. Crucial to understanding Frank Capra is first rejecting the traditional model. Capra was an American immigrant artist who loved this country, especially the idea of it but could never really reconcile its contradictions.
The full article is here.
---
An interview with Zuzu
The Washington Post has an interview with Karolyn Grimes, the actresss who played the young Zuzu Bailey in Capra's It's A Wonderful Life.
Zuzu has a cold again. She sniffles and sucks on a cold pill as she signs autographs for fans lined up to the door in a coffee shop.

Karolyn Grimes jokes that she left her coat open, like her character Zuzu Bailey in "It's a Wonderful Life." A more likely culprit is the holiday crunch of appearances by the former child actress - - from a Victorian festival in Puyallup, Wash., to the Colorado Country Christmas Show and now to Seneca Falls, which claims to be the inspiration for director Frank Capra's mythical Bedford Falls.

Around Christmas, this Finger Lakes village is gussied up like the snowy movie town with white lights and wreaths strung across the main street. And the 66-year-old Grimes has come for a weekend celebration.

Everyone who saw the movie remembers Zuzu. She gets to say, "Every time a bell rings an angel gets his wings." And the petals from Zuzu's rose - - stuffed into a pants pocket by Jimmy Stewart's George Bailey as he comforts his sickly daughter - - become a symbol of life.

Grimes laughs about the petals getting more screentime than she did. But she has parlayed her six minutes in the beloved 1946 film into a late-life career. After enduring heartaches that make George Bailey's troubles look small, she has become a feel-good ambassador for the film and one of its last living links.

"I'm that little girl and I stand for something those people love," she says. "... For some reason or other, that little girl embodies the image, or maybe the power to make them happy."

People tell her as much all afternoon at the Zuzu Cafe, where she sits with a Sharpie at a table laid out with "It's a Wonderful Life" stuff: DVDs, ceramic ornaments, memory books, her own "Zuzu Bailey's It's a Wonderful Life Cookbook" and scattered rose petals.
More of this interview at the Washington Post here.
Information about Seneca Falls (with photos) here.
---
It's A Wonderful Life Update
I am noticing a great deal more news activity in regards to both the film It's A Wonderful Life and Frank Capra in general this holiday season. The remastered new DVD release and the box set of Capra films from the 30s are getting the most notice. Below is a roundup of links of articles, an interview, and reviews of the stage production of the story that is playing in a number of American cities:
Interview
An interview with Jim Hawkins (who played George Bailey's son in Wonderful Life) is at movieweb.com.
Recent articles on It's A Wonderful Life:

Seven Things You Didn't Know About It's A Wonderful Life by James Rocchi at cinematical.com
The gift of George Bailey By George Diepenbrock at the Kansan.com
Tribute to It's A Wonderful Life by Randall A Byrn at blogcritics.com.
Articles on the stage production of It's A Wonderful Life:
---
Washington Post review of Capra Box Set
Article review at the Washington Post by Curt Fields talks about Capra and reviews the five films that are part of the "Premiere Collection" box set that is due out on Dec ember 5:
Of course there are his two best-known works, the holiday staple "It's a Wonderful Life" from 1946 and "Mr. Smith Goes to Washington" from 1939. But before those, between 1933 and 1938, Capra and writer-collaborator Robert Riskin created five Oscar-nominated films: "Lady for a Day" (1933, nominated for Best Picture and Best Director); "It Happened One Night" (1934, winner Best Director); "Mr. Deeds Goes to Town" (1936, nominated Best Picture, winner Best Director); "Lost Horizon" (1937, nominated Best Picture); and "You Can't Take It With You" (1938, winner Best Picture and Best Director).

You can get a feel for Capra's best work when "The Premiere Frank Capra Collection" is released Tuesday. It features digitally remastered versions of "Mr. Smith Goes to Washington," "You Can't Take It With You," "Mr. Deeds Goes to Town," "It Happened One Night" and the new-to-DVD "American Madness."

Running throughout the set are the themes common to the populist Capra's movies, the little man vs. the big man and the affect of an individual doing the right thing on society at large.

Bonus features in the package include a 96-page book with essays on each film and many photographs; all-new interviews; archival footage; "Frank Capra's American Dream" documentary hosted by Ron Howard; and commentaries and featurettes for each film.
amazon.com sells the box set for $41.35 (store retail price is $59.95).
Mr. Smith Goes to Washington
It Happened One Night
You Can't Take It with You
Mr. Deeds Goes to Town
American Madness
Frank Capra's American Dream
---
It's A Wonderful Life on NBC December 16
News article at the Washington Times discusses ratings woes at NBC, but mentions the 8 pm (eastern) broadcast of Capra's movie:
One less ratings worry on NBC's plate is the Dec. 16 telecast (from 8 to 11 p.m.) of Frank Capra's beloved holiday classic, "It's a Wonderful Life," on its 60th anniversary.

The film, which earned Oscar nominations for best picture, director (Mr. Capra) and actor (Jimmy Stewart) follows the life of George Bailey (Mr. Stewart) in the fictional town of Bedford Falls. His greatest challenge, of course, comes on Christmas Eve when — on the brink of financial ruin and possible jail — Bailey contemplates suicide. But an angel named Clarence (played by Henry Travers) demonstrates the importance of life by showing how different Bedford Falls would be had he not been born.
NBC does not show anything on their web site about the film yet, their schedule only extends to December 7.
---
It's A Wonderful Life Sequel?

The New York Post reports that Frank Capra Jr. has mentioned that his father and Jimmy Stewart had a sequel to "It's A Wonderful Life" in mind, though it was never made:
The late moviemaker planned to use the stars, JIMMY STEWART and DONNA REED, of the 1946 film for the follow-up, which would track their progress 20 years on.

His son Frank Capra Jr. tells PageSix.com, "My father and Jimmy were talking about it.

"GEORGE BAILEY (Stewart's character) would now be retired, and the story would involve a big conflict between him and his older son.

"They really wanted to make the sequel to show how the characters were doing, but it never happened.

Capra Jr. - who does commentary on the new DVD set "The Premiere Frank Capra Collection," which features "It Happened One Night," "Mr. Smith Goes to Washington" and other classics - added that his father, who died in 1991, wouldn't be bothered by the permissiveness in today's movies. "Don't forget there was nudity in 'Lost Horizon' - Jane Wyatt in the swimming scene. And in those days it was tough to get something like that by the censors," he said.
---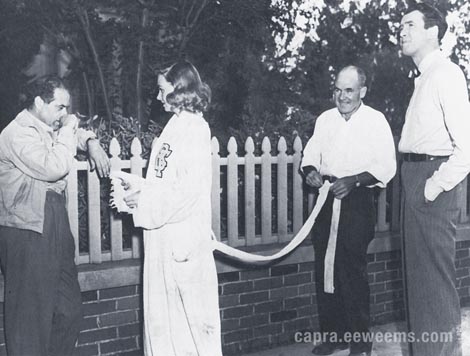 [above] Frank Capra directing a scene from the 1946 It's A Wonderful Life
Tribute to It's A Wonderful Life
It's getting to be that time of year! A nicely written review of It's A Wonderful Life has appeared at blogcritics.com. The piece is by Randall A Byrn. He writes:
It's a Wonderful Life is not only the best of all Christmas movies – it's one of the greatest American films. It's often mistakenly thought of as a big pile of corny sentimental mush. But as someone who's allergic to fake sentimentality, I can promise you there is a much more substantive – and dark – achievement in Frank Capra's 1946 masterpiece.

I first saw this movie in the best possible way, and I feel very lucky. I was attending USC's film school, and they were showing a retrospective of Capra movies. USC has connections at the film studios, and they can often get pristine prints from studio vaults...

...What unfolded before my widening eyes was a glistening, gorgeous 35mm print. If you've only seen Wonderful Life on television, you've only half seen it. It is beautifully crafted – the photography, the editing, the storytelling itself are models of fine workmanship, probably Capra's very best movie. The cast, from the leads down to just about every supporting role, is nearly perfect. And as the film proceeds, it develops an astonishing emotional pull, as powerful as a freight train, a nuclear missile, an earthquake.

I was 20. As far as I can remember, I had never cried at a movie before. It came upon me out of nowhere in the last scene, when our hero's brother toasts him as "my big brother George, the richest man in town." I was overwhelmed with emotion, suddenly sobbing uncontrollably. And it shocked me. What the hell was going on?
---
| | |
| --- | --- |
| | |
---