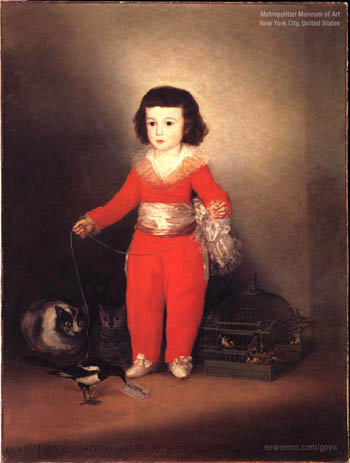 Portrait of Don Manuel Osorio de Manrique Zuniga
1784-88 Oil on canvas
50 inches by 39 3/4inches
127 cm x 101.6 cm
Metropolitan Museum of Art New York
This child was the son of the Count and Countess of Altimara, the boy being roughly the same age as Goya's son Xavier. The painting was commissioned by the Bank of Spain.
BIO | ARTWORK | BOOKS | RESOURCES FOR STUDENTS | LINKS | CONTACT | NEWS | STATS| F.A.Q.

- - - - - - - - - - - - - - - - -
art of goya web site ©1997-2006 Erik E. Weems
Original images are copyright to their respective owners.
http://www.eeweems.com/goya/zuniga.html