Goya News
---
News May 29, 2018
World Goth Day: An anatomy of melancholy from Goya and Edgar Allan Poe to Bauhaus and Tim Burton - UK Independent
History of Humor in Prints and Drawings Opens at DC National Gallery of Art on July 15 - will feature Francisco de Goya among others - Press Release
Striking Goya print show launches Milwaukee Art Museum season of mastery - on milwaukee.com
---
New additions
Goya's The Bandit Maragato series
This oil painted sequential story by Francisco Goya [below] tells how Fray Pedro defeated the bandit Maragato. Click images below to enlarge.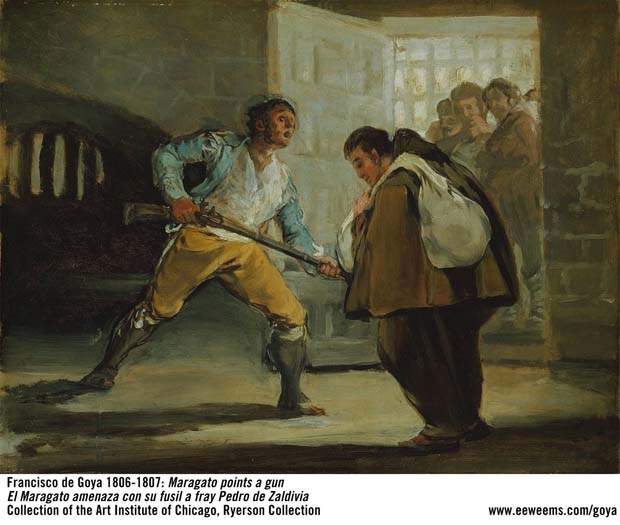 Maragato points a gun
El Maragato amenaza con su fusil a fray Pedro de Zaldivia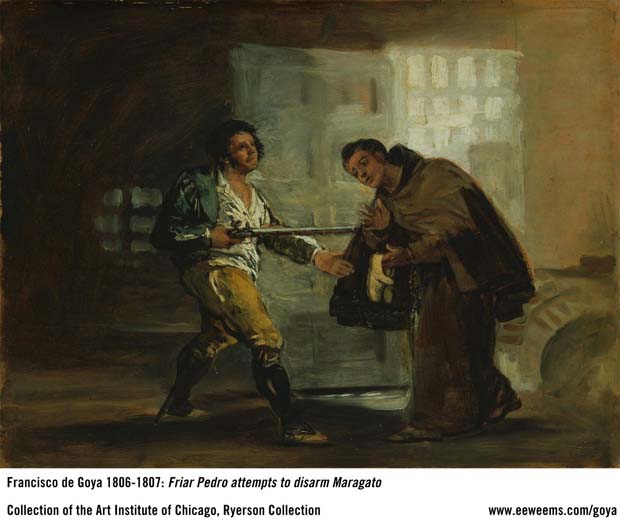 Friar Pedro attempts to disarm Maragato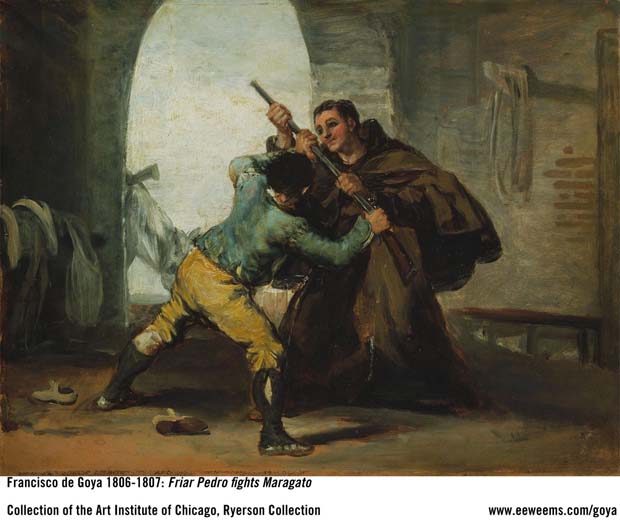 Friar Pedro fights Maragato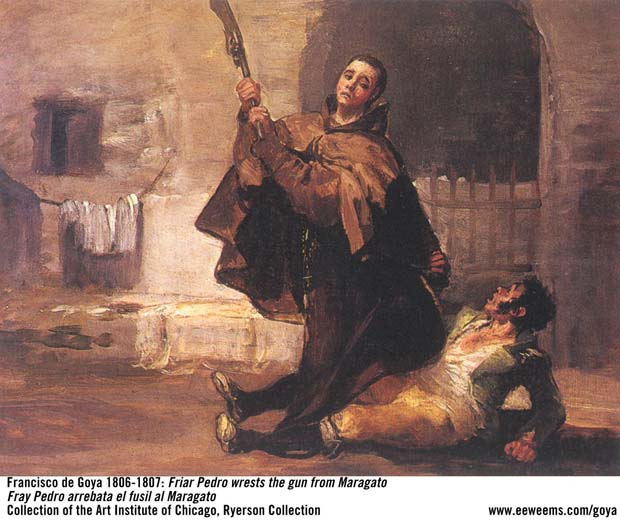 Friar Pedro wrests the gun from Maragato
Fray Pedro arrebata el fusil al Maragato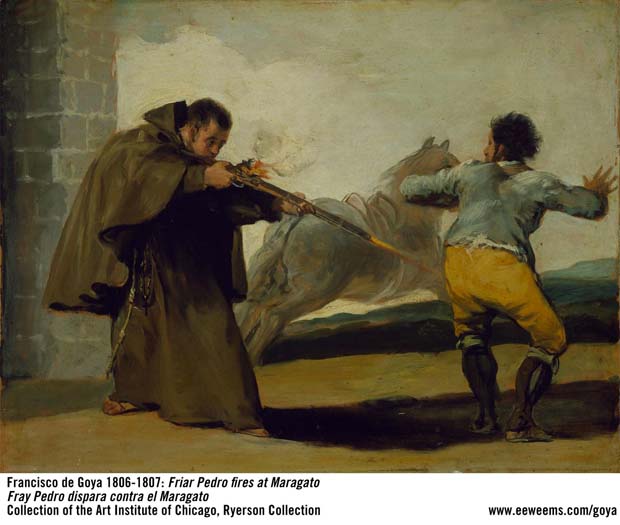 Friar Pedro fires at Maragato
Fray Pedro dispara contra el Maragato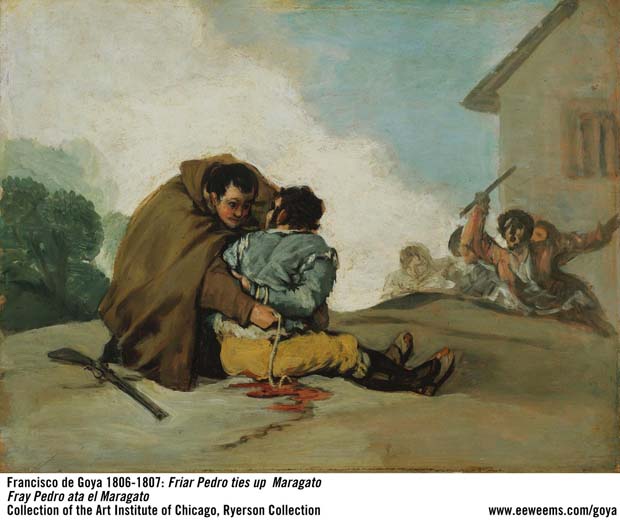 Friar Pedro ties up Maragato
Fray Pedro ata el Maragato
---
July 19, 2017
Disasters of War
Farideh Lashai on Goya - Harpers Bazaar Arabia
The mood embraces the horror of Goya scenography juxtaposed against the romanticism of Eliot's poetry, all of which are encapsulated in the video installation by the late Lashai. She manipulated the prints by removing the figures to leave empty settings, upon which she projected animated imagery via a roving spotlight to the rhythm of Chopin Nocturnes. The use of movement and music creates a somber, ephemeral sensation that plays against the concrete nature of printmaking, the traumas of history and the erasure of narrative in the face of disaster. Her use of fragmentation, both narratively and physically, is haunting.
Exhibit: Farideh Lashai's When I Count, There Are Only You… But When I Look, There Is Only a Shadow
May 30 to September 10 2017 at Museo Nacional del Prado
Madrid, Spain. For more information visit
museodelprado.es
---
June 9, 2017
Goya to Albuquerque Museum
Major show of Spanish art heading to ABQ - Abqjournal
"Four thousand years of Spanish art, including major works by Goya, Velázquez and El Greco, are coming to the Albuquerque Museum next year.

"Treasures From the Hispanic Society of America" will open on Nov. 10, 2018, and hang through March 2019. Albuquerque will be the first U.S. city to host the traveling display of world-renowned works of art.

The 200 pieces, including sculpture, fiber, jewelry and documents, are currently on view at Madrid's El Prado Museum. The Madrid show has drawn more than 150,000 spectators since April."
---
June 2, 2017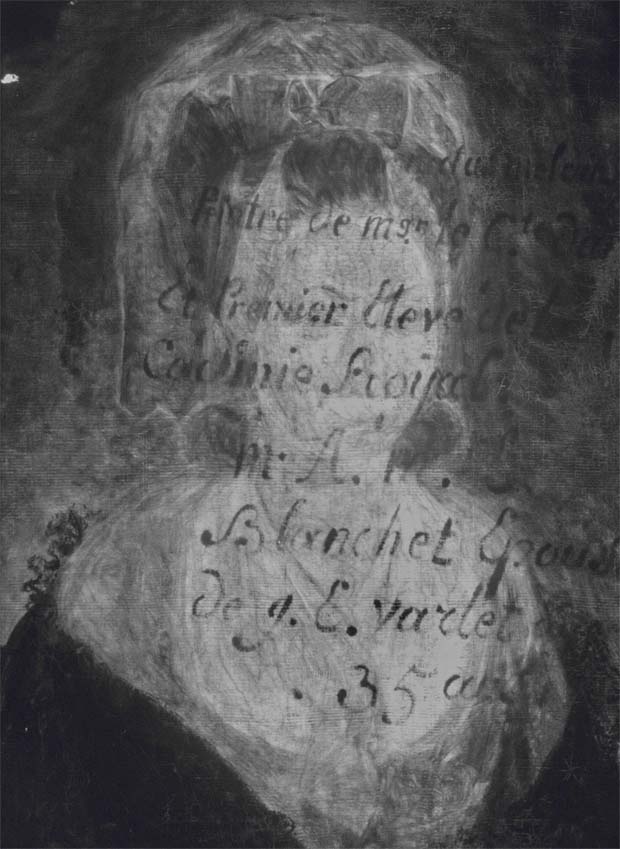 Striker Family portrait of Josefa Goya - Updated with new information
---
May 2, 2017
Francisco Goya's Mystery Illness Diagnosed After 200 Years - ndtv.com
"In 1793, Goya developed a severe illness that left him bedridden for months in the middle of his career. He experienced headaches, dizziness, hallucinations, vision problems and ringing in his ears, 'Live Science' reported. Most of these symptoms eventually went away, but the illness left Goya deaf.

He "had a certain constellation of symptoms" that gave the researchers clues to a possible diagnosis, said Ronna Hertzano, a surgeon and hearing expert at the University of Maryland. Susac's syndrome would "explain all of his symptoms" and can leave patients with lasting hearing loss, Hertzano said..."
---
March 21, 2017
La Tauromaquia print set at Sotheby's for April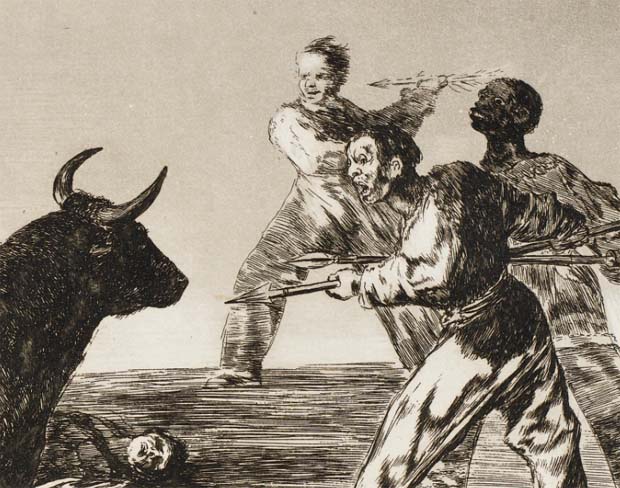 Newly-discovered bullfighting prints set estimated to sell for approx. €500,000
From the Sotheby's description
"The complete set of 33 etchings with burnished aquatint and lavis, drypoint and engraving, 1816, very fine to fine impressions from the First Edition, published by the artist, Madrid, 1816, printed in dark umber ink, the richly printed aquatints displayed to full, tonal effect, on fine laid papers, Plate 23 with a Serra watermark, the full sheets, mounted within a 19th-century ledger; together with five etchings after Velázquez (Harris 12-16), very good to pale impressions as published in the First or Second Editions (1778-9 and circa 1815-20); 90 hand-coloured lithographs after H. Bellangé, political and satirical items from the French and English press including Vanity Fair, many popular prints and four gouache views, the ledger bound in marbled half boards and green suede spine and corners, paper end pages watermarked Hudelist"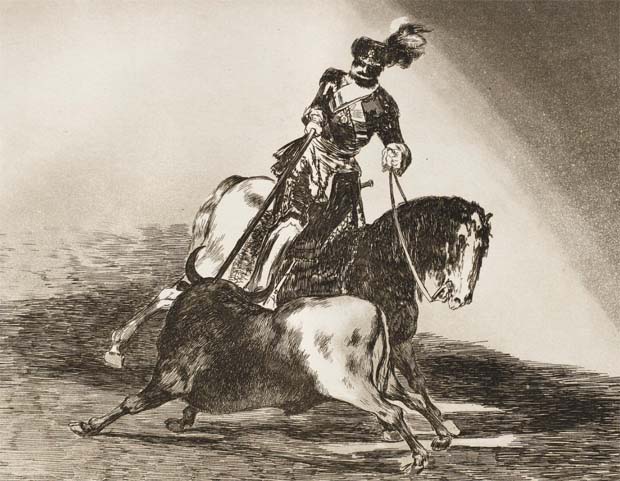 Article at the Irish Times describes the find:
"...Recently in France, a family clearing out an old library found a complete set of 33 prints by the acclaimed Spanish artist, Goya depicting bullfighting scenes, known as La Tauromaquia, that had remained undisturbed for decades in a 19th-century ledger. The prints are now set to go under the hammer at Sotheby's in London on April 4th with a top estimate of £500,000 (€590,000). "
---
March 16, 2016
Prado museum gets new director
Article at Vietnamnews:
"Falomir, the museum's deputy director and long-serving curator, will replace outgoing director Miguel Zugaza who is stepping down after 15 years at the helm of the Madrid museum.

Last month, the Prado's selection committee unanimously chose the 51-year-old former art history professor to be its new director and the museum's trustees approved the decision on Wednesday, a statement from the Prado said."
---
December 30, 2016
Goya at the Israel Museum in Jerusalem
Goya: Daydreams and Nightmares - December 10, 2016-April 18, 2017 Location: Spertus Gallery - Museum web site page Israel Museum (English)
Article at Jerusalem Post
"Five of the works that form the centerpiece of the epic and historic exhibition at the Israel Museum in Jerusalem on view until April 18 were commissioned for the Spanish Royal Court in Goya's early years. We can see the color and frolicking that the artist witnessed around him exhibited against a blunt red background in masterpieces such as The Straw Manikin (1792), with children playing with a stuffed mannequin, and in The Parasol (1777) showing a man and woman with a green parasol."
---
October 8, 2016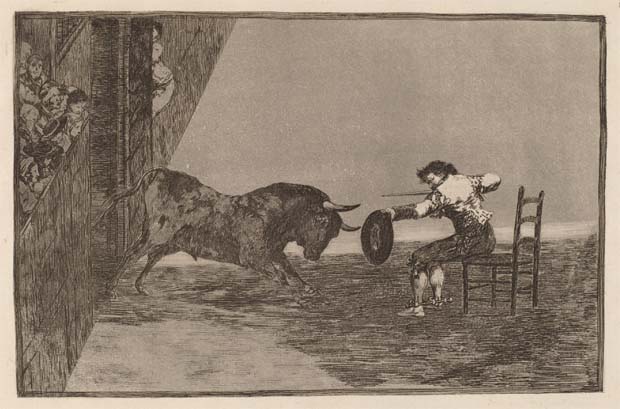 Drawing exhibit Goya's Tauromaquia now touring Australia
Curious Beasts includes animals drawn by Rembrandt and Goya - The Australian.com
"If the British Museum's Curious Beasts exhibition were a touring selection of paintings and sculptures, it would be described as a blockbuster. Setting the magnificence of Rembrandt to one side, it also features works by Goya, Albrecht Durer and the 18th-century English animal specialist George Stubbs."

...In the animal encounters category are two fine works by the Spanish master Francisco de Goya. Working on the cusp of the romantic and modern periods, Goya combined great imaginative freedom with penetrating realism. Both qualities are evident in his 33 etchings of bullfight scenes, published as a series titled the Tauromaquia."
---
September 2, 2016
Goya in Moscow
Description of exhibit at the Garage Museum of Contemporary Art
Article at Blouinartinfo
"The exhibition includes 43 of Eisenstein's sketches from the Russian State Archive of Literature and Art that have not been exhibited before. 50 of Goya's etchings, from all four of his suites, will be loaned for the first time from the State Central Museum of Contemporary History of Russia and more than 35 works by Longo, produced in the last fifteen years, loaned from international collections."
---
February 15, 2016
Goya "The White Duchess" in Tennessee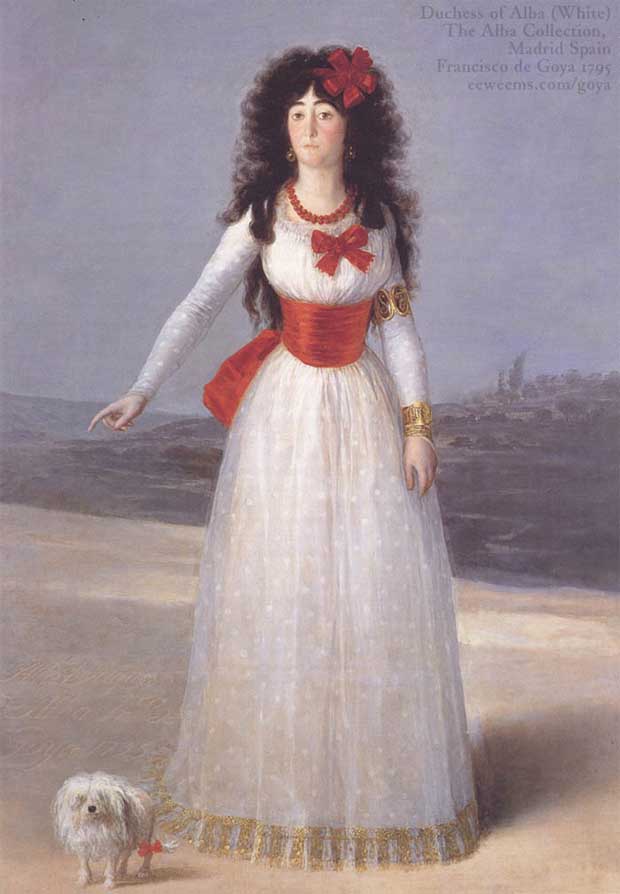 "Pair of Frist exhibits delve into European art, past and present " Article at The Tennessean
"Gracing the walls of the Ingram Gallery are works by Albrecht Dürer, Rembrandt, Titian, Francisco de Goya, Bartolomé Esteban Murillo, José de Ribera, John Singer Sargent and many more. The blockbuster exhibition surveys the family's history of collecting from the third Duke of Alba, who rose to prominence at the end of the Middle Ages, up through the current and 19th Duke of Alba, don Carlos Fitz-James Stuart.

....a highlight lies within the gallery that highlights Francisco de Goya's portraits of the Alba family, specifically the 13th Duchess of Alba, doña María del Pilar Teresa Cayetana, who was among Goya's major patrons. In perhaps the most famous works in the exhibition, Goya paints a full-length portrait of the Duchess entitled "The Duchess of Alba in White" (1795). Here, she is seen in an elegant white gown adorned with silken red ribbons. At her feet is a small white dog that dons a small red ribbon of its own. It is one of the artist's most celebrated portraits."
---
November 2, 2015
More reviews of the London Goya Portrait show
Article at UK Telegraph:
"Even in his more awkward early portrayals (he only came to portraiture in 1783, at the age of 37; before then he made religious paintings and designed tapestries) as well as in his grandest formal commissions, Goya always presented an uncanny ability to show his sitters as real people and to reveal their inner lives as well as capturing their outward appearance."
How to see beyond the stiff upper lips in Goya's portraits - New Statesman
"One of the best things in "Goya: the Portraits" is a red chalk drawing of Juan Agustín Ceán Bermúdez (1798-99). It is the spitting image of Hirst, with that tough, terse, lipless shrewdness – the mouth of a market stallholder in Leeds – inadequately disguised in a wig like an inverted empire sofa with scroll arms. There is a Self-Portrait (1815) later in the show, in which it looks as if the Botox went wrong in the right of the mouth."
Goya: the enigma behind the easel - UK Telegraph
"Sadly, The Family of Charles IV (which never leaves the Prado Museum) will not be travelling to London next week for the biggest exhibition of Goya's portraiture ever mounted. Some 70 of the 160 portraits he painted will appear in the National Gallery's autumn blockbuster, which amounts to a who's who of Spanish society in the late-17th and early-18th century."
Goya: The Portraits explores the legendarily dark artist's less nightmarish output - City AM
"Don't expect to see the Marquis of Villafranca doing the dishes, but do look out for the bulbous nose of King Charles III of Spain rendered with unflattering frankness, as he poses during a hunt, all warm smiles and friendly eyes. Neither did Goya make any attempt to play down the diminutive stature of the Count of Altamira, painting him as he did sitting on a short, custom-made chair next to a relatively tall table on which the Count rather awkwardly rests his arm."
Why did Goya's sitters put up with his brutal honesty? - UK Spectator
"Some of his earlier efforts have a stiff naiveté that is close to folk art. The main figure in the 'The Count of Floridablanca' (1783) (above) is wooden and doll-like and yet the painting as a whole is oddly memorable. Goya himself — short, subservient and sturdy, presenting a painting to his patron and simultaneously pushing himself into the picture — is a more lively presence than the noble subject. "
---
October 22, 2015
What Goya really thought of the Church - Catholic Herald
"He also produced a self-portrait in which he presented himself ailing in the arms of his doctor. In the background of the portrait are the shadowy figures of three men. To some viewers of the painting, these figures are devil-like. To others, they are churchmen. Interestingly, Goya requested in his will to be buried wearing a Franciscan habit. As he struggled against the tide of conflict and worsening illness, he might well have hoped to be comforted by the friars who were his friends."
---
October 21, 2015
Prado Museum exhibition features treasures from royal collections - Japan News
"A large-scale exhibition of masterworks from the Prado Museum of Madrid has come to Japan for the first time in 13 years, and this time it is one that aims to shed an entirely new light on the famed Prado collection.

...Rooted in the royal collections of the Hapsburg and Bourbon monarchs of Spain, the Prado's collection is celebrated as one of the world's finest, not only in the art of the great Spanish masters such as El Greco, Luis de Morales, Diego Velazquez, Bartolome Murillo and Francisco de Goya, but also the Italian Renaissance masters Titian, Tintoretto and Correggio, and the Dutch masters Bosch, Rubens and Brueghel, among others."
---
October 15, 2015
Portrait of Don Pedro Gil de Tejada - ApolloMag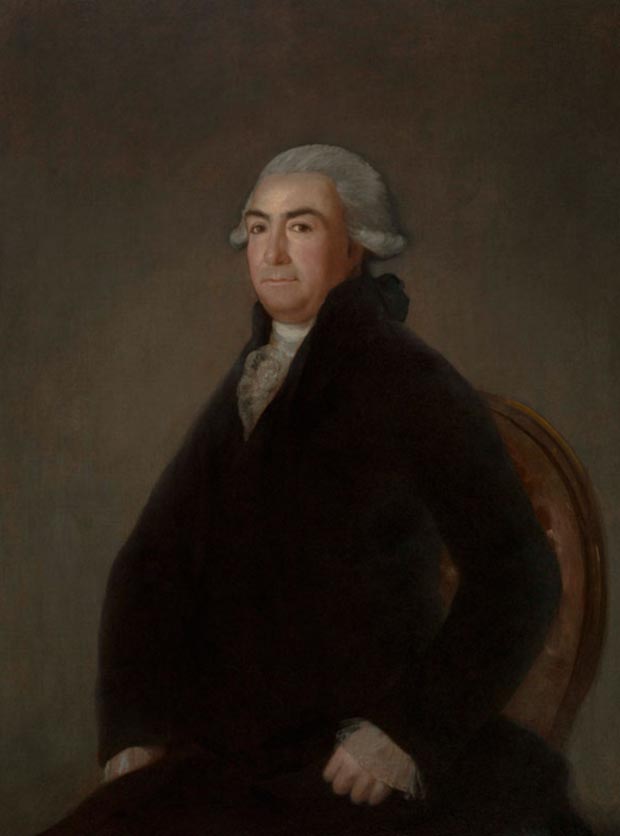 "At Stair Sainty's stand is Goya's Portrait of Don Pedro Gil de Tejada. Goya captured vanity and pomposity like no portrait painter before or since, but when a sitter appealed to him, he didn't ignore it. Don Pedro Gil de Tejada was a banker, depicted here in his pomp. He eventually died fighting the invading French. Going on Goya's depiction, he also seems to have had roguish charm; exactly the kind of guy you'd want for company at a Frieze party."
---
Oct 8, 2015
'Goya: The Portraits' Review The Spanish artist refused to become a dutiful, orthodox and formulaic portraitist - Wall Street Journal
"Goya had no desire to become a dutiful, orthodox and formulaic portraitist. Far from it: After becoming deputy director of painting at the Royal Academy, he encouraged rebellion by telling his students that "there are no rules in painting." That is why, walking through this exhibition, we encounter surprises at every turn. Even Charles III of Spain, painted full-length just before his death in 1788, is shown grinning as he leans on a hunter's rifle next to a cozily sleeping hound. This portrait is very far removed from lofty regal pomposity. Charles himself wanted to be seen as a "Friend of his people," so Goya's informal approach went down well. In 1789 Goya was appointed Court Painter—an accolade that gave him access to the royal family and any other grandees who relished his sense of adventure."
---
October 8, 2015
"Even as a courtier, Goya was no hack"
Piece discusses the current exhibition at the National Gallery in London. Writer knocks the inclusion of 'lessor' portraits but is enthusiastic about the group of the more famous artworks. Article at the Economist:
"In presenting the first-ever exhibition of Goya portraits, Xavier Bray, the chief curator of the Dulwich Picture Gallery, aims to rebalance the artist's legacy. By bringing together many rare and seldom-seen works, he hopes to increase appreciation of them. Does he succeed?

Well, it depends on where you look. The arresting full-length painting of the Duchess of Alba (pictured top), one of several rare loans (from the New York Hispanic Society), makes a fine case for this show. The portrait shows her swathed in costly black lace, a crimson sash around her waist, her long full skirt appliqued with black flowers, and with eyebrows to make Cara Delavigne envious. It is a star of the exhibition (and duly graces the posters)."
Additional coverage of the London Exhibit:
'Dazzling Brilliance' - Huffington Post
"The 70 portraits on show demonstrate Goya's genius beautifully and include works that have never been exhibited publicly before, having remained in the possession of descendants of the sitters, and some that are rarely lent. This includes the impressive Duchess of Alba, 1797, which has only once left the United States, and has never before travelled to Britain, and the delicate and intriguing portrait of Don Valentin Bellvis de Moncada de Pizarro, 1795, which is on public display here for the first time ever."
---
Sept 20, 2015
Goya portrait causes controversy at London's National Gallery
Article at Olive Press Es:
"The portrait's brushwork and the hidden painting beneath are the main points of controversy."

A painting of a man wearing a striped jacket was found beneath the portrait when the painting was x-rayed following scholarly sceptics.

Experts are now looking into the portrait's history, thought to have been painted in 1805, to determine if it truly is a Goya."
---
Sept 16, 2015
Alba family's treasures on display at Dallas' Meadows Museum
Part of the Meadows' 50th anniversary celebration
Article at the Star-Telegram
"The Alba collection, with thousands of works, was amassed by marriages, astute acquisitions, commissions and, in one case, almost ruinous collecting.

The story of the Alba family and its intrigues is worthy of a three-year Masterpiece Theater series. There were alliances and marriages with most of Europe's dynasties, and the record of these is illustrated in the collection's portraits, created by the most notable painters and sculptors of the time.

The paintings, furnishings, documents, tapestries, drawings, prints, maps and antiquities are from the three Alba palaces in Spain — the Liria in Madrid, Las Dueñas in Seville and Monterrey in Salamanca. There, these treasures are hung salon-style, three- and four-deep on the walls, clustered on tables and dwarfing the furniture.

The tapestries that take up an entire wall in the museum "look like a stamp in the staircase of the palace," says Mark Roglán, director of the Meadows.

There is such a glorious excess that even Fra Angelico's The Virgin of the Pomegranate, c. 1426, with its eye-catching gold leaf and brilliant colors, is lost among the Titians, Goyas, Riberas, Murillos, Rubenses, Ingreses, Renoirs and Sorollas.

Many of these works, such as Fra Angelico's Virgin, have never left Spain. The loan of this magnitude was achieved on the Meadows' sterling history of mounting Spanish exhibitions and artworks."
Wem site featuring the exhibit www.meadowsmuseumdallas.org

---
Judge probes use of four fake Goyas to fund Madrid hospital
Article at el Pais:
"A company used four fake Goya paintings to raise funds to build a medical center specializing in spinal cord injuries west of Madrid, the public prosecutor has said.

...The firm produced four supposed Francisco de Goya paintings and a report attesting to their authenticity written by an individual who purported to hold a PhD in art history. The artwork was meant to guarantee a capital increase that would enable the company to build the center.

The project met with the approval of the Villaviciosa government team. "It represented a major opportunity in terms of jobs and business development," said sources at the town hall. Workers were to be hired from a pool of local job seekers."
---
Dec 29, 2014
Cornell professor unlocks mysteries of paintings
"Richard Johnson can see right through the masterpieces of Rembrandt and Van Gogh.

The Cornell University electrical and computer engineering professor is a digital art detective, able to unlock the mysteries of a work's age and authenticity by analyzing its underlying canvas or paper.

Using high-resolution X-ray images, the 64-year-old academic can actually determine if paintings came from the same bolt of hand-loomed canvas, each of which has a varying thread density pattern that can be as unique as a fingerprint. Linking multiple pieces of canvas to the same bolt can shore up arguments for authenticity and even put works in chronological order."
Though not directly about Goya, this article discusses some of the aspects of modern painting authentication and research methods.
---
June 24, 2013
Goya drawing to be auctioned at Christie's
Old Master & British Drawings & Watercolours, July 2, 2013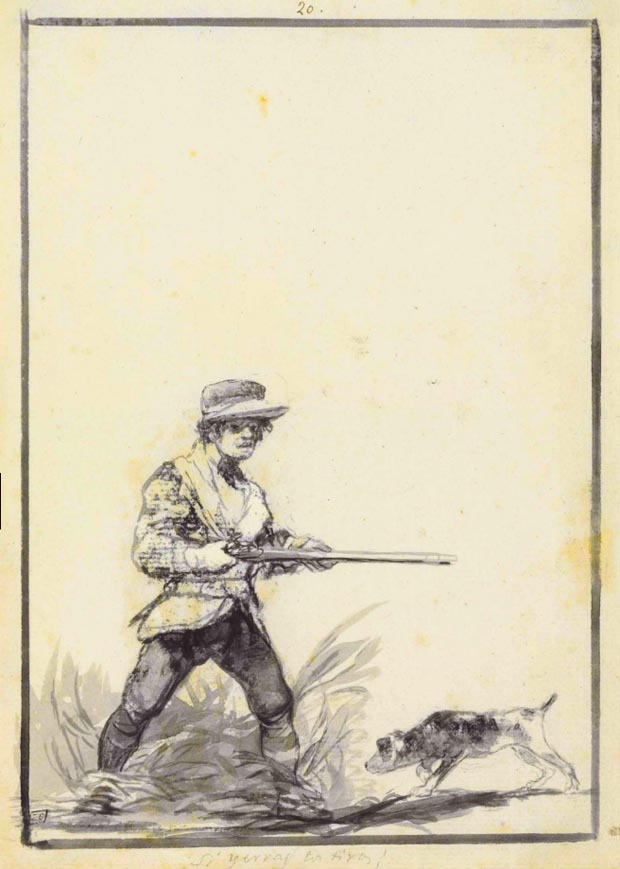 Drawing is from Goya's "Black Border Album" which dates to 1816/1818.
---
February 8, 2013
New documentary film on Goya "Secrets in the Shadows"
El Secreto de la Sombra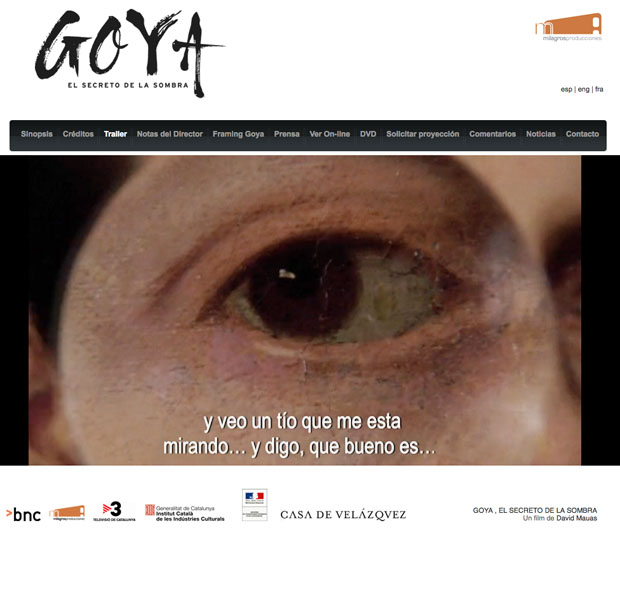 This spanish language documentary has an online trailer with english subtitles here.
The trailer is about the 'hidden signatures' that Goya placed in his paintings. Also mentioned is the high quantity of would-be Goya paintings that are seeking authentication, and the challenges of separating fakes from genuine works. The film provides a fascinating inside-view of the world of Goya collecting and details how Goya signed his paintings.
---
December 15, 2012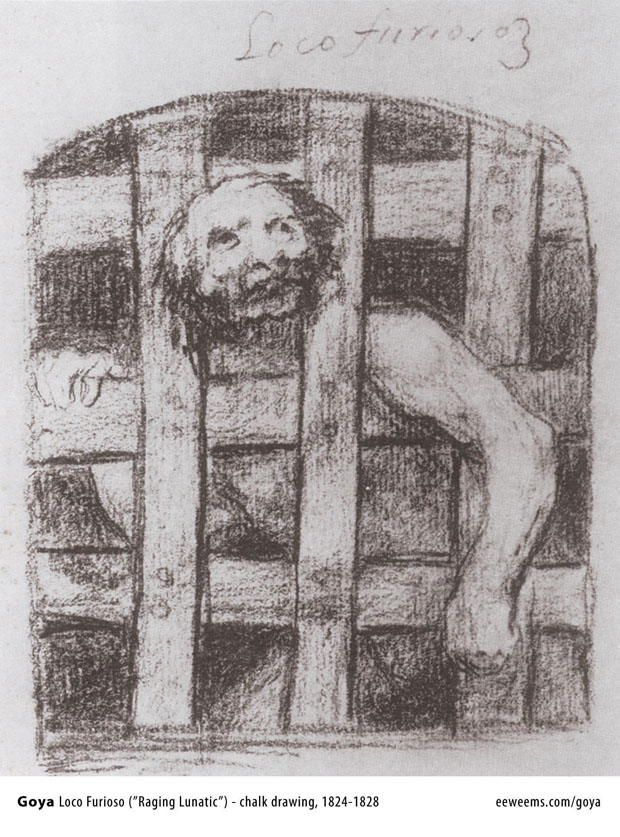 "Raging Lunatic" - Loco Furioso
It is suspected that the drawing is based upon Goya's visit to the asylum in Bordeaux, France.
See this black chalk drawing at an enlarged size.
---
August 21, 2012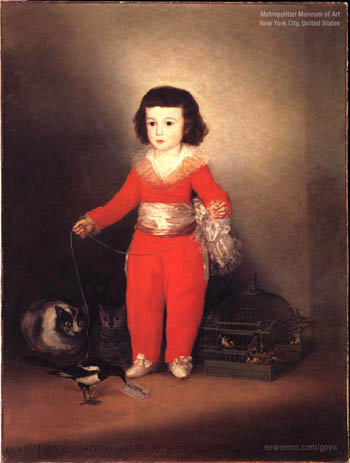 Portrait of Don Manuel Osorio de Manrique Zuniga
1784-88 Oil on canvas
50 inches by 39 3/4inches
127 cm x 101.6 cm
Metropolitan Museum of Art New York
This child was the son of the Count and Countess of Altimara, the boy being roughly the same age as Goya's son Xavier. The painting was commissioned by the Bank of Spain.
Koller Zurich auction in September for 'unknown' Goya
Painting was unrecognized in art collection for over 80 years.
To be auctioned between September 17 - 22.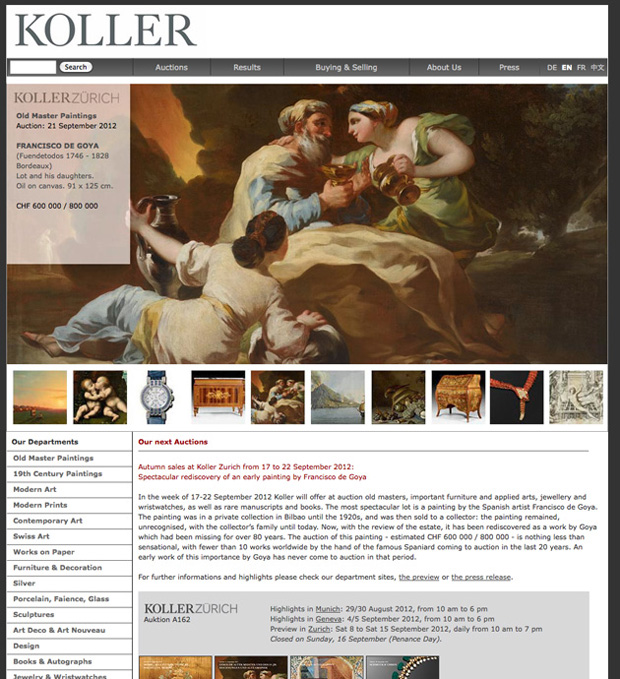 From the Koller web site:
"The most spectacular lot is a painting by the Spanish artist Francisco de Goya. The painting was in a private collection in Bilbao until the 1920s, and was then sold to a collector: the painting remained, unrecognised, with the collector's family until today. Now, with the review of the estate, it has been rediscovered as a work by Goya which had been missing for over 80 years. The auction of this painting - estimated CHF 600 000 / 800 000 - is nothing less than sensational, with fewer than 10 works worldwide by the hand of the famous Spaniard coming to auction in the last 20 years. An early work of this importance by Goya has never come to auction in that period."
Does it look like a Goya? It does indeed. Color handling looks like any number of Goya images, and the body forms and anatomy handling all looks like Goya, and matches his style for his tapestry works, too. Experts are placing the painting (Lot and his Daughters) to the 1770s. (For an example, compare to The Parasol.)
The discovery of Lot and His Daughters by Goya joins a short list of other 'discovered' unknown Goya works of recent news, such as Goya's Portrait of Don Ramon Satue which was found via X-ray's last year.
Much more info available at the Koller Zurich Web Site.
---
August 16, 2012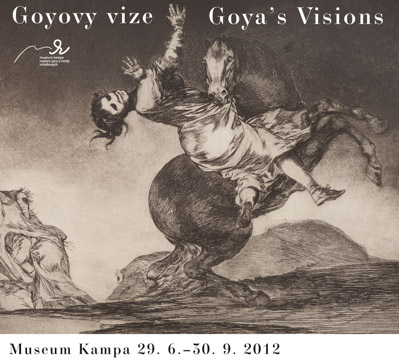 Prague Kampa Museum hosts exhibit of Goya etchings
80 selected prints from Caprichos, The Proverbs, The Disasters of War and La Tauromaquia are on display.
Exhibit opened August 1 and will continue through September 30, 2012.
Kampa Museum Web Site (English language section)
---
August 6, 2012
Prado Museum profile
An interesting overview of the Prado Museum, with an emphasis on Goya, from the online edition of the the newspaper The Australian.
"In another painting in the same series, young women in tight bodices and full skirts toss a life-sized male figure in a blanket. His head lolls and his limbs hang limp. Is he human?

"It is a rag doll," says Bernardo. "The women are taking their revenge on men."

Goya an early feminist? My appreciation of him increases at every turn. One of Goya's paintings shows the festival of San Isidro, the patron saint of Madrid. Every year on May 15, Madrilenos sing, dance, eat and drink on the banks of the River Manzanares.

"We still celebrate there today," says Bernardo, "but now there are more buildings."
Article by Eithne Nightingale
---
November 11, 2011
Anniversary of the theft of the 'Duke of Wellington'
The UK Guardian has an interesting look at the theft of Goya's Duke of Wellignton and the Mona Lisa. Article by Sandy Nairne:
"The 21st of August is the anniversary of two shocking art thefts: Leonardo da Vinci's Mona Lisa stolen from the Louvre 100 years ago, and Francisco de Goya's The Duke of Wellington taken from the National Gallery, London, exactly 50 years later. The two thefts share more than the same date. Both thieves concealed the famous paintings for several years without being caught and both decided to return them: the Duke was deposited in the left-luggage office of New Street station in Birmingham. More significantly, once they had confessed, the thieves puzzled the authorities by not matching the expected profile of being debonair figures such as EA Hornung's Arthur Raffles, or Thomas Crown (whether Steve McQueen or Pierce Brosnan).

When in July 1965 a 61-year-old retired truck driver announced at West End Central police station that he had stolen the Goya, it was hard for the police to take Kempton Bunton seriously as he differed so much from the presumed image of whoever it was who had sent a sequence of notes, written in capitals, to various newspapers.

Although the Mona Lisa theft is considerably more famous, the loss of the Goya is significant. It was a fundamental shock to the National Gallery: its first ever theft, and the painting had been taken only 19 days after going on display.

...Reality and fiction often overlap in cases of art theft. However the link between the two was made very specific when in Dr No, the first of Ian Fleming's James Bond novels to be produced as a film in 1962, the evil scientist's underwater lair at Crab Key in Jamaica provides the setting for an unexpected encounter. Sean Connery, as Bond, pauses as he walks through the dining room to admire a portrait on an easel – it is Goya's The Duke of Wellington. The image fuels the commonly held view that thefts of great works of art are carried out at the behest of criminal collectors – a notion that has rarely been found to be true.

Even though a detailed account of how Bunton accomplished the theft was published in 1977, posthumously, it is possible that he was not the thief. He might have used the painting to promote his cause and confessed to cover up for another."
For more info about the painting "Duke of Wellington" go here.
---
October 29, 2011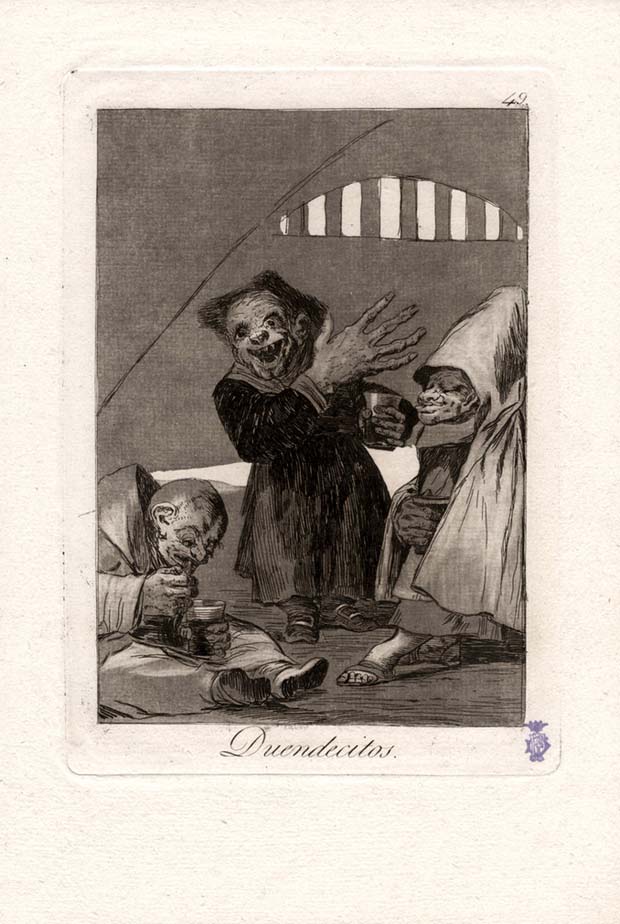 Goya's Dark Etchings From a Past Full of Horrors - New York Times
"One of the advantages of art history is that it provides a sense of perspective. If you think we've got it bad, with our financial crisis, wars and natural disasters, just look at Spain in the late 18th and early 19th centuries. A brilliant, sobering and visionary window onto that world is provided by "Los Caprichos (The Caprices)," a series of 80 etchings by Francisco José de Goya y Lucientes (1746-1828), currently on view at the Nassau County Museum of Art in Roslyn Harbor.

Goya made the etchings, which were originally published in 1799, from drawings and observations recorded in two sketchbooks, detailing abuses by the Roman Catholic Church, societal ills from pedophilia to prostitution, and rampant superstition in an age of revolution and terror."
---
August 17, 2011
Updated Pages on Josefa Bayeu
As part of the ongoing installation of our new web site design, pages are being updated: New Josefa Bayeu 1814 Oil Portrait Page and Josefa Bayeu black chalk portrait of 1805
---
August 12, 2011
Print exhibit in Houston "Acid on Metal" to feature Goya, Rembrandt, others
Museum of Fine Arts Houston, Texas, USA - Sep 11, 2011 - Nov 27, 2011
From the new release:
Acid on Metal: The Art of Etching and Aquatint chronicles the development of etching from the 16th century, through the golden ages of Rembrandt van Rijn and Francisco de Goya, to the medium's revitalization and modernization under Pablo Picasso, James Abbott McNeill Whistler, and contemporary masters such as Brice Marden and Richard Stankiewicz. Prints by Rembrandt, including Jupiter and Antiope, display the master's fluid handling and experimental style that inspired generations of printmakers to follow. Goya, who created works of a sharp satirical and political nature, showcases his mastery of aquatint with The Cid Campeador Attacking a Bull with His Lance.

The second in a series of print exhibitions at the MFAH examining the varied techniques in printmaking, Acid on Metal focuses on the intaglio printmaking process of etching and the related technique of aquatint, methods that require the biting of a metal plate with acid to incise a design. Exploring various etching techniques as unique vehicles of expression, this show features a selection of more than 50 works on paper drawn primarily from the MFAH collection. Also on view are tools, plates, and books to enhance the audience's understanding of the creative force of etching from the 16th century to today.
Museum Fine Arts Page on Print Exhibit
---
August 10, 2011
85 Year Duchess of Alba to sell art collection
Reuters reports on the coming nuptials of Duchess Cayetana Fitz-James Stuart who is reportedly selling off her collection of art by Goya, Velazquez, El Greco, Rembrandt, and others:
Spain's wealthy Duchess of Alba, 85, who is believed to have the most noble titles of any living person, has distributed her vast fortune and art collection to her six children in order to marry a 60-year-old civil servant, Reuters reports.

The twice-widowed duchess, Cayetana Fitz-James Stuart, is attempting to prove to her family that her suitor, Alfonso Diez, is not interested in her sizable real-estate, art collection and wealth, which is believed to stand at between 600 million and 3.5 billion euros ($4.9 billion). Her children have reportedly urged her to call off the marriage."
Story at the New York Observer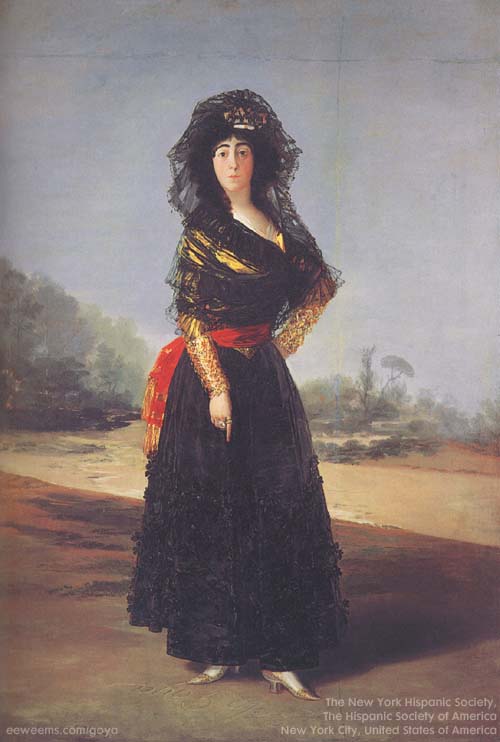 ---
February 18, 2011
Portrait of Josefa Bayeu page updated
Update Feb 2011: WriterJacek Dehnel sent an email mentioning an important error in the previous text about dating this image (see below):
[This site wrote] "Evidense about the clothing style and the lighting in the painting dates the image to 1815, a time when Goya's wife Josefa would have been much older than the apparent youthfullness shown here" and "Josefa would have been a much older woman in 1815 than what is presented in this image"

I would like to point out, that Josefa not only would look much older in 1815, but also that she was already dead for 3 years (she died in 1812)."
SEE THE UPDATED JOSEFA BAYEU PORTRAIT PAGE HERE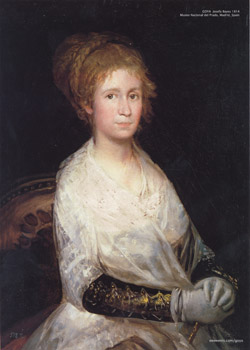 ---
January 7, 2011
Apple now offering a "Goya app" for iPod, iPad
As more people move their digital needs and toys to handheld devices, the catalogs of the great master artists will inevitably move their as well. Apple's new software tool for looking at the Goya images sells for $1.99 USD.
[Below] Screenshot of the Apple iTunes store offering the Goya app: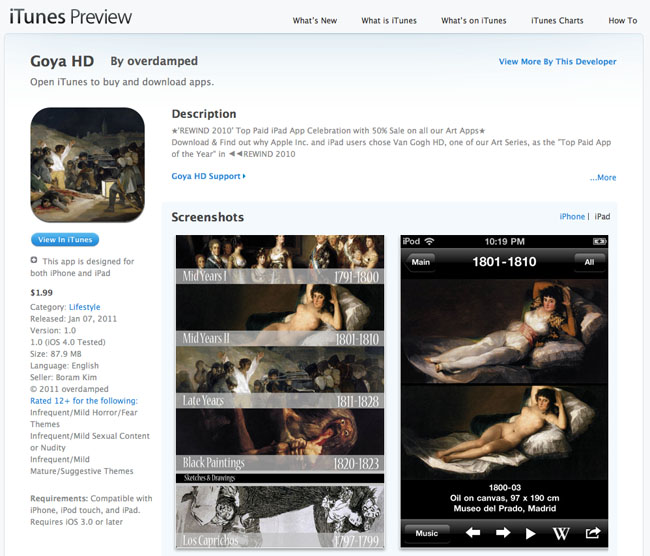 ---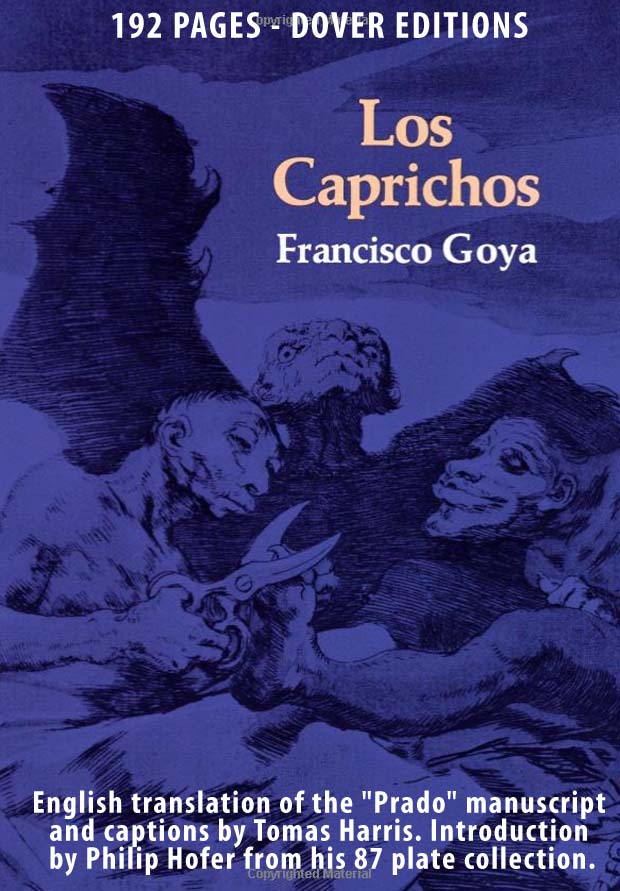 GOYA : Los Caprichos - Dover Edition - Amazon
---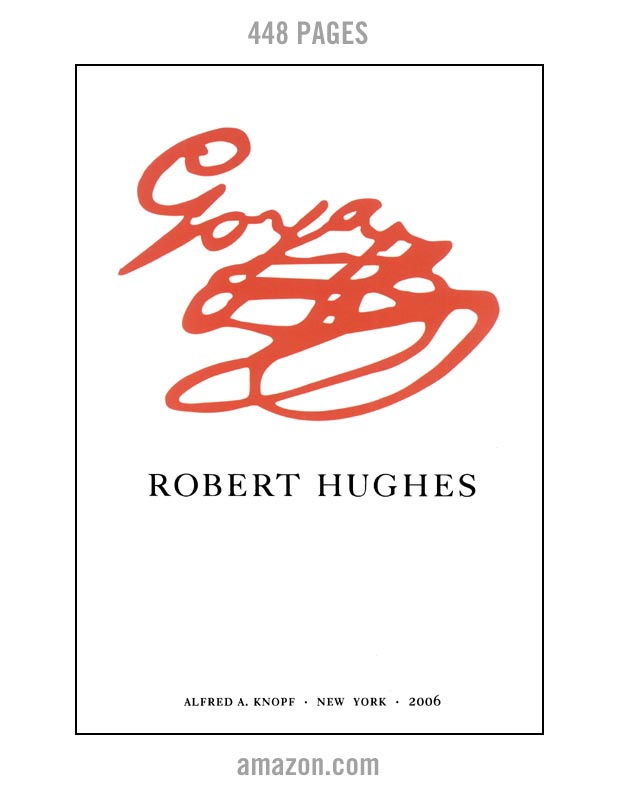 ---