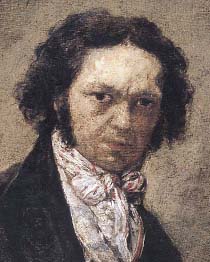 Born March 30, 1746 – Died April 16, 1828. Spanish painter applauded in art history as the transition personality between the Old Masters and modern art. Court painter to the Spanish Crown, Goya pursued personal projects in paint, drawings and etchings in which he chronicled national historical events and carefully articulated a critique of Spanish, and then European ideals, society, morals and religious institutions.
---
Goya News
Last Updated September 15, 2023
---
Goya and Munch Exhibit, Norway – Munchmuseet
MUNCH MUSEUM: Edvard Munchs Plass 1, 0194 Oslo, Norway
---
The Challenge of Goya's "Saturn Devouring his Son"
Story at ABC Australia
---
Goya and his painting The Last Communion of St Joseph Calasanz "Sacred Mysteries, Saintly Failures" – MSN UK Telegraph – August 22, 2023
The article discusses how Goya sent back 3/4ths of his painting fee for doing two paintings, one being  The Last Communion of St Joseph Calasanz, Goya saying it was a gift for his "countryman".  The article goes into more depth about Joseph Calasanz himself.
---
The art of copying artworks – The Star
"The Prado's new permanent exhibition celebrates the art of copying"
Article discusses the new exhibit room at the Museo del Prado in Madrid which features "copied" art from it's collection.
The ancient practice of artists (for example Goya and el Greco) for copying artworks by other painters was often done by setting up directly by the artwork and then using direct observation to make a duplicate. This allowed an artist to learn the handling and technique of another artist, and also to have a color duplicate of an artwork they particularly admired.
---
Goya, Salvador Dali, Picasso, etc., in exhibit in Turin
Story at Financial Times on the March 15 – November 19, 2023 exhibit Artists in a Time of War being held at the Castello di Rivoli, a castle-museum outside Turin, Italy [see map].
This new exhibition of over 140 works by 30 artists presents more than 140 works by 39 artists who have experienced or are experiencing war. Their works express empathy and complexity, unease but also great humanity.
Website for exhibit at the Castello di Rivoli
---
Effort to sell phony paintings by Goya and Velazquez end with arrests – The Times UK [Paywall] April 2023
Four people are under investigation for fraud for trying to sell the four fake Goyas and one fake Velázquez, which they attempted to do with "abundant documentation that was also counterfeited to deceive and gain the trust of buyers", according to the government of Valencia, where the fraud was uncovered.
---
Goya artworks return to Spain after more than a century – The Times UK
After more than a century nine works by Goya are going from the Frick collection in NYC for exhibition at the Prado Museum in Madrid. The group of images include four paintings by Francisco de Goya, three by El Greco and one each by Velazquez and Bartolome Esteban Murillo.
"Velázquez and Goya masterpieces back on Spanish soil" – The Times UK
"El Greco, Goya Works In Spain For First Time In Over Century" – Barrons
---
Goya twin portrait set could break auction records – Barrons
Update: Christie's auction sells two Goyas for 16.4 million dollars - News 360
A pair of 217-year-old portraits of a mother-daughter duo by Spanish painter Francisco Goya will be auctioned together for an estimate between US$15 million and US$20 million in January at Christie's in New York.
Page on the "Old Masters" auction at the Christie's Web Site
Also at the Christie's site: Ten Things to Know About Goya
---
Climate protesters glue their hands to two Goya paintings at the Prado – MSN People – November 6, 2022
They put their hands on the two paintings La Maja Vestida and La Maja Desnuda
---
Inside the world of detecting phony Rembrandt and Goya paintings – Phys.org
---
New spectrum for Goya's Black Paintings at the Prado Museum
When Goya painted his nightmarish Black Paintings directly on to the walls of his country retreat near Madrid he never intended them for public display. An exhibition by Philippe Parreno, the French artist, has recreated the alarming experience of first viewing them inside the farmhouse, demolished long ago. The Black Paintings are among the most disturbing and priceless works of art housed by the Prado Museum in Madrid.
Story at UK Times
---

---
---
AMAZON
Goya The Terrible Sublime - Graphic Novel - (Spanish Edition) - Amazon
---
Goya: His Life & Works in 500 Images: An illustrated account of the artist, his life and context, with a gallery of 300 paintings and drawings – 256 pages, Lorenz Books, 2015 - Amazon
---

"From this headlong seizure of life we should not expect a calm and refined art, nor a reflective one. Yet Goya was more than a Nietzschean egoist riding roughshod over the world to assert his supermanhood. He was receptive to all shades of feeling, and it was his extreme sensitivity as well as his muscular temerity that actuated his assaults on the outrageous society of Spain." From Thomas Craven's essay on Goya from MEN OF ART (1931).
"...Loneliness has its limits, for Goya was not a prophet but a painter. If he had not been a painter his attitude to life would have found expression only in preaching or suicide." From Andre Malroux's essay in SATURN: AN ESSAY ON GOYA (1957).
"Goya is always a great artist, often a frightening one...light and shade play upon atrocious horrors." From Charles Baudelaire's essay on Goya from CURIOSITES ESTRANGERS (1842).
"[An] extraordinary mingling of hatred and compassion, despair and sardonic humour, realism and fantasy." From the foreword by Aldous Huxley to THE COMPLETE ETCHINGS OF GOYA (1962).
"His analysis in paint, chalk and ink of mass disaster and human frailty pointed to someone obsessed with the chaos of existence..." From the book on Goya by Sarah Symmons (1998).
"I cannot forgive you for admiring Goya...I find nothing in the least pleasing about his paintings or his etchings..." From a letter to (spanish) Duchess Colonna from the French writer Prosper Merimee (1869).
---
---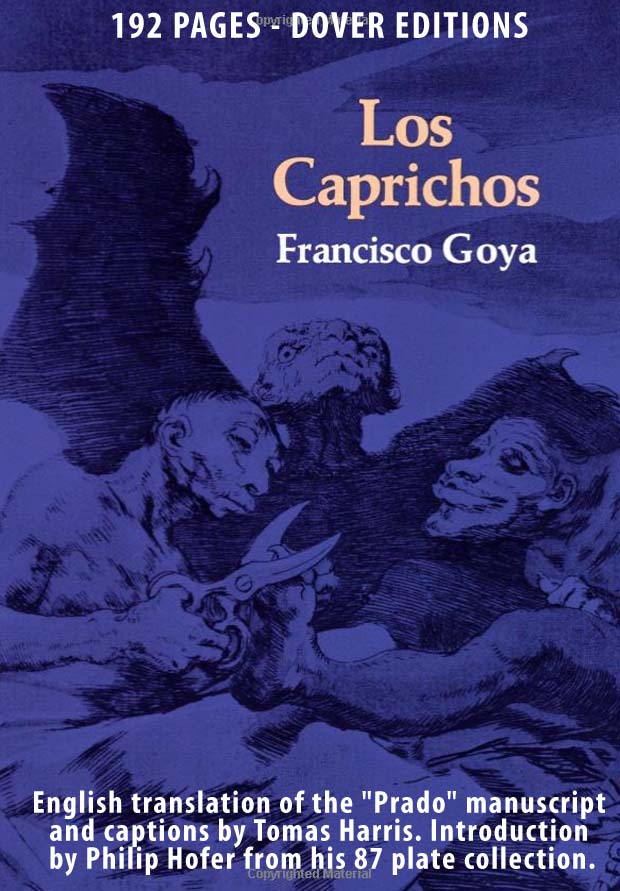 GOYA : Los Caprichos - Dover Edition - Amazon
---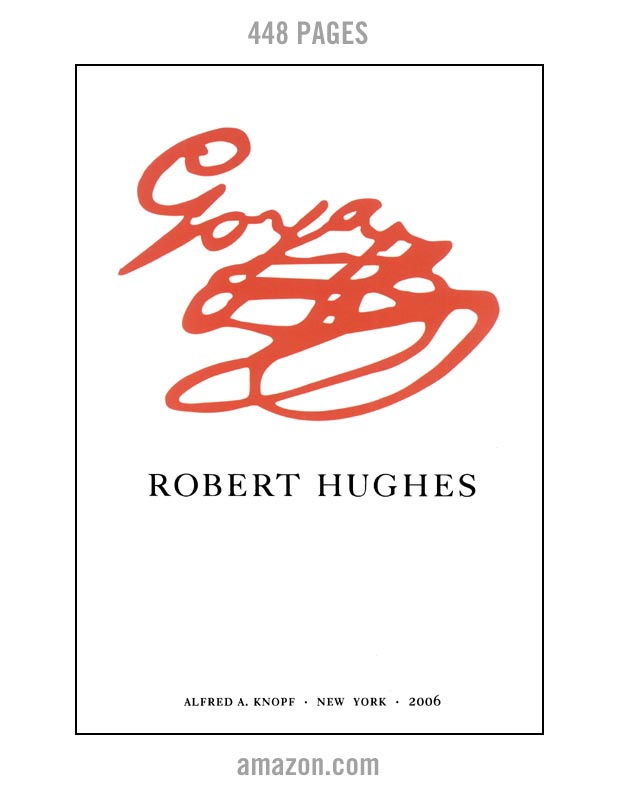 ---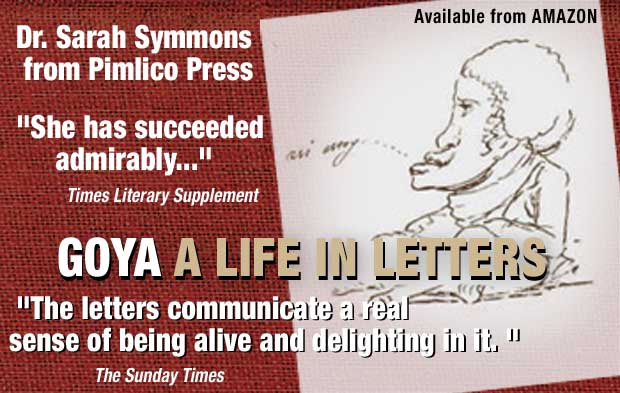 Goya: A Life in Letters
---