Goya Archive 2020-2022
---
Technology is piercing a hidden world inside artworks
Using X-rays and spectrum scanners to look at layers inside of a painting that are not visible to the naked eye has been used by restorers, researchers and experts for decades, but with the advent of more readily available AI technology the possibilities for computers to go much further into inspecting every atom of an artwork is growing rapidly.
Story at BBC News June 2022
Five years ago, the National Gallery in London acquired new state-of-the-art scanning equipment capable of capturing so much data about a single painting that most cultural organisations are poorly equipped to make much use of it. Some are now initiating cross-sector collaborations with universities that can offer superior computing facilities and broader expertise. As part of a recent partnership with University College London and Imperial College London, called Art Through the ICT Lens, or ARTICT, the National Gallery has been producing much clearer images of Francisco de Goya's Doña Isabel de Porcel (c 1805), a fashionable young woman wearing a black mantilla (scarf). In 1980, a mysterious second portrait of a man in a waistcoat and jacket was discovered underneath. Getting a clearer image of the man has meant combining multiple scans from different regions of the electromagnetic spectrum, some of which reveal certain aspects of the painting better than others. At first, this process had to be done manually but thanks to this new research, it has now been handed over to a computer.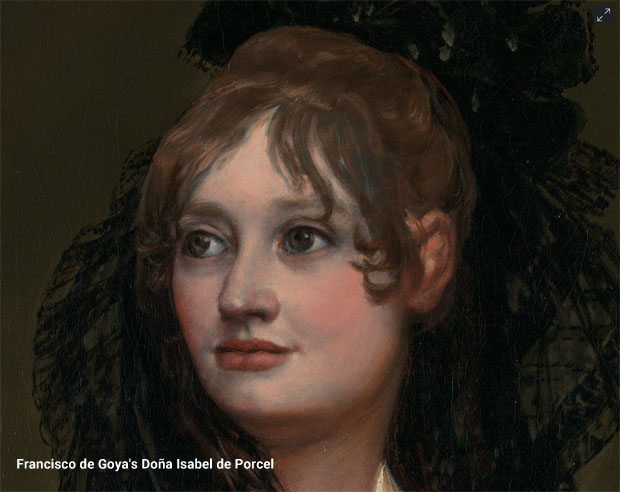 ---
Goya art based NFT issue coming – Joplin Globe
Caprice No. 6 is the first of a series of Goya NFTs that will be released over the next year and will be selected from 80 Caprices owned by Artemundi.
---
New Aquatint etching exhibit at the US National Gallery features Goya
The National Gallery, Washington DC, web site page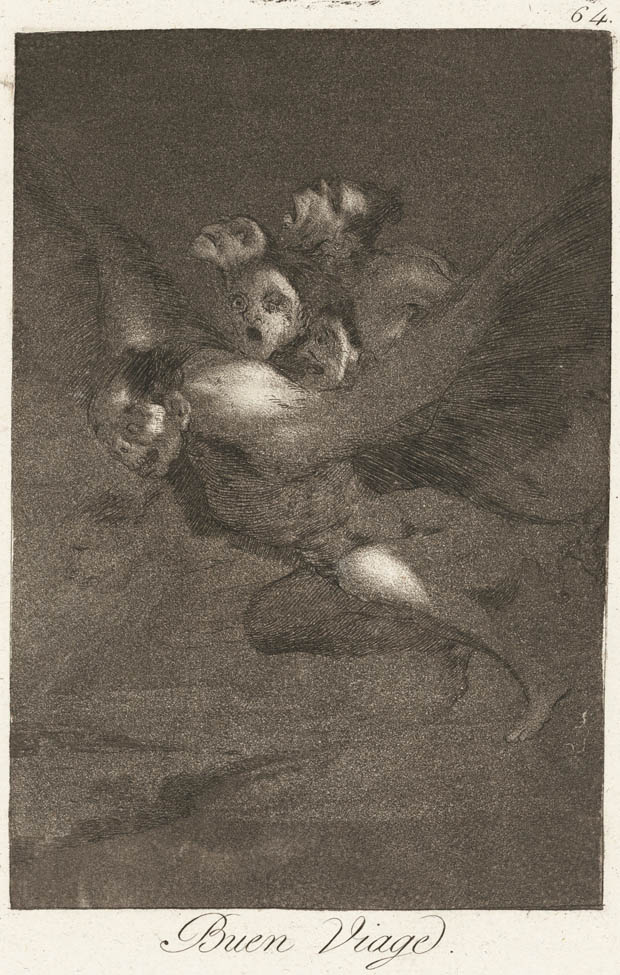 ---
The renovated Courtauld Gallery in London, collection includes Goya work – UK Guardian
---
William Kentridge on Francisco Goya – Frieze
...the detail that holds our attention, and from which our viewing expands. For me, it is the turning of the woman's left leg as she puts her foot on the horse's neck. A simple shape and black line give us all we need to know about her foot, the delicacy of the shoe, its decisive pivot towards us. With Goya, there is always this extraordinary economy of line."
---
Looking at Goya's Witch Paintings – Goya
---
75 Goya paintings going to special exhibit at Beyeler Foundation in Switzerland
Exhibit runs October 10, 2021 – January 23, 2022
Website of the Beyeler Foundation with info on the Goya Exhibit
An article about the coming show and its unusually large scope at Art Newspaper
Altogether the Beyeler exhibition will present 75 paintings by Francisco de Goya (1746-1828), along with 50 drawings and 50 prints.
Martin Schwander, the Beyeler's curator, believes that it will be "one of the most significant exhibitions ever devoted to Francisco de Goya outside Spain". Goya, opening on 10 October in the Beyeler's magnificent galleries in Riehen, just north of the centre of Basel, will boast an astonishing array of loans.
---
Did Goya deliberately obfuscate political attitudes into his official paintings for the Royal family of Spain?
Since Goya expressed himself primarily in images, it is difficult to determine how he felt about the historical events he depicted in his paintings. That said, the many royal portraits he created while in service to Spain's reactionary royal family reveal subtle, yet sharp attacks aimed at his employers. Look, for instance, at his depiction of Charles III. The painting, completed in 1787 under the working title Charles III in Hunting Dress, may seem like an ordinary portrait, were it not for the awkward posture and timid expression with which Goya chose to represent his subject, a proponent of Enlightened absolutism who caved under pressure from the Catholic Church.
The idea that Goya had mocked a monarch with whom biographers insist he was on good terms may seem far-fetched until you compare his rendition of Charles with that of Anton Raphael Mengs, which depicts the same king standing tall and confident in shining ceremonial armor.
"Francisco Goya: how a Spanish painter fooled kings and queens" - article at Big Think
---
Goya art gift comes to Frick Collection – Art Newspaper
---
When Goya's portrait of Wellington was stolen and held for ransom – UK Express
The ransom letters at the heart of one of the 20th century's most notorious art thefts have been released by the National Gallery before the 60th anniversary of the crime.

Received after the theft of Francisco de Goya's portrait of the Duke of Wellington on August 21, 1961, the letters outline the thieves' desire for the state's money to be spent on caring for the elderly rather than buying art.
One demand was that pensioners be given free television licences. One of the letters released today states: "This act is an attempt to pick the pockets of those who love art more than charity...
---
---
"Embarrassing climbdown" for Prado museum over attribution of The Colossus
July 8, 2021: story at the UK Independent and at the UK The Times "Prado admits error"
The painting in question: Coloso, aka The Giant, or, The Colossus
---
Goya at 175 and the link to Fuendetodos, Spain.
Goya has a profound human, cultural and social pull because of the circumstances in which he created his works and because of his own capacity to reach people all over the world. We want to use that to empower the towns and villages in the Belchite region.
Story at UK Guardian
APRIL 4, 2021
---
Police seize fake artworks: Goya, Modigliani, and El Greco
Story at Hypebeast
---
"In 1776, Young Francisco Goya Set Out to Make Copies of Diego Velázquez's Work—and It Etched Itself Into His Style Forever" - Artnet
---
New Goya bio: Portrait of the Artist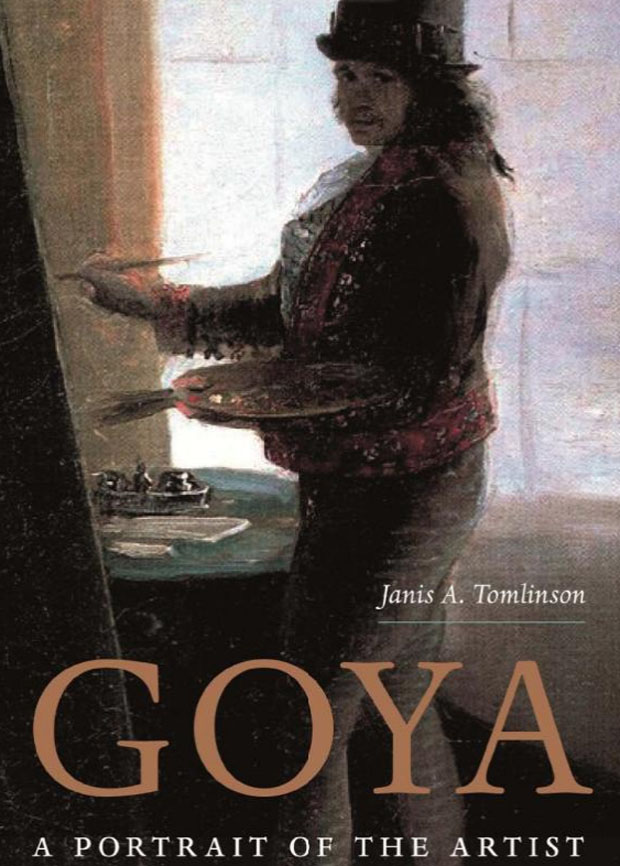 By Janis A. Tomlinson
Hardcover 448 pages
Princeton University Press - published September 15, 2020
Amazon - Goya: A Portrait of the Artist
Review at Wall Street Journal - Nightmare
"...Goya was born in Fuendetodos, Spain, in 1746. Ms. Tomlinson relates the spurious, earthy legend of his artistic discovery: "One day as the fifteen-year-old Goya was carrying a sack of wheat to the nearby mill, he stopped to rest and hummed softly as he drew on a wall with charcoal the figure of a pig. Fate intervened as an aged monk was passing by; astounded by the young man's talent, he soon arranged to take Goya to the capital of the province of Aragón, Zaragoza, where he placed the youth in the studio of the town's leading painter, José Luzán Martínez." In fact, Goya was in Zaragoza within months of his birth; his father and brother were gilders, exposing him to the apprentice system; he began with Luzán at 13."
Another review at The Times
"...He may have been the ultimate depicter of the dark human unconscious — all those witches, giants, flying creatures, skeletal crones and monstrous humans mutilating and mauling one another — but he never stated what his pictures actually meant. He did, however, make the claim: "My work is very simple. My art reveals idealism and truth." A shifty statement given there is very little that is simple about his pictures."
Another review at the New Yorker
"...Tomlinson addresses, with refreshing clarity, a chronic question of just how independent, not to say subversive, Goya was of the powers that employed him. She debunks a common oversimplification of Goya as a committed post-Enlightenment liberal. He was more complicated than that, and ineluctably strange. Uncanniness had to be part of his magnetism. There's often something haunted or haunting in his portraits and in some of his religious and allegorical commissions, though not in the antic cartoons of Spanish life that were destined for tapestries, an irksome duty of his early career. It's as if he always had something up his sleeve."
---
"Why Francisco de Goya's Prints Are a Safe Bet for Cautious Collectors"
September 10, 2020: article at Artsy.net
---
Goya Exhibit:
March 1 to March 31 - ART - Francisco Goya: The Caprichos Etchings and Aquatints
The Hyde Collection Art Museum, Glens Falls, NY
Website: http://www.hydecollection.org/
---
The 440 image "Treasure Trove" of Goya drawings
Feb 1, 2020
"The great achievement of this show is in the monumental effort of assembling so many of Goya's drawings in one space; but almost inevitably with so much on display it becomes easy to lose the thread. In certain respects this is all to the good: in keeping with Goya's tendency to something like graphomania, the most revelatory moments come courtesy of the chance to see whole series in their original sequence."
Goya: "Only My Strength of Will Remains"
Story at Apollo Magazine web site
Amazon: Goya Drawings - Hardcover: 360 pages Publisher: Thames & Hudson; 1 edition (April 7, 2020)
---

---
AMAZON
Goya The Terrible Sublime - Graphic Novel - (Spanish Edition) - Amazon
---
Goya: His Life & Works in 500 Images: An illustrated account of the artist, his life and context, with a gallery of 300 paintings and drawings – 256 pages, Lorenz Books, 2015 - Amazon
---

"From this headlong seizure of life we should not expect a calm and refined art, nor a reflective one. Yet Goya was more than a Nietzschean egoist riding roughshod over the world to assert his supermanhood. He was receptive to all shades of feeling, and it was his extreme sensitivity as well as his muscular temerity that actuated his assaults on the outrageous society of Spain." From Thomas Craven's essay on Goya from MEN OF ART (1931).
"...Loneliness has its limits, for Goya was not a prophet but a painter. If he had not been a painter his attitude to life would have found expression only in preaching or suicide." From Andre Malroux's essay in SATURN: AN ESSAY ON GOYA (1957).
"Goya is always a great artist, often a frightening one...light and shade play upon atrocious horrors." From Charles Baudelaire's essay on Goya from CURIOSITES ESTRANGERS (1842).
"[An] extraordinary mingling of hatred and compassion, despair and sardonic humour, realism and fantasy." From the foreword by Aldous Huxley to THE COMPLETE ETCHINGS OF GOYA (1962).
"His analysis in paint, chalk and ink of mass disaster and human frailty pointed to someone obsessed with the chaos of existence..." From the book on Goya by Sarah Symmons (1998).
"I cannot forgive you for admiring Goya...I find nothing in the least pleasing about his paintings or his etchings..." From a letter to (spanish) Duchess Colonna from the French writer Prosper Merimee (1869).
---
---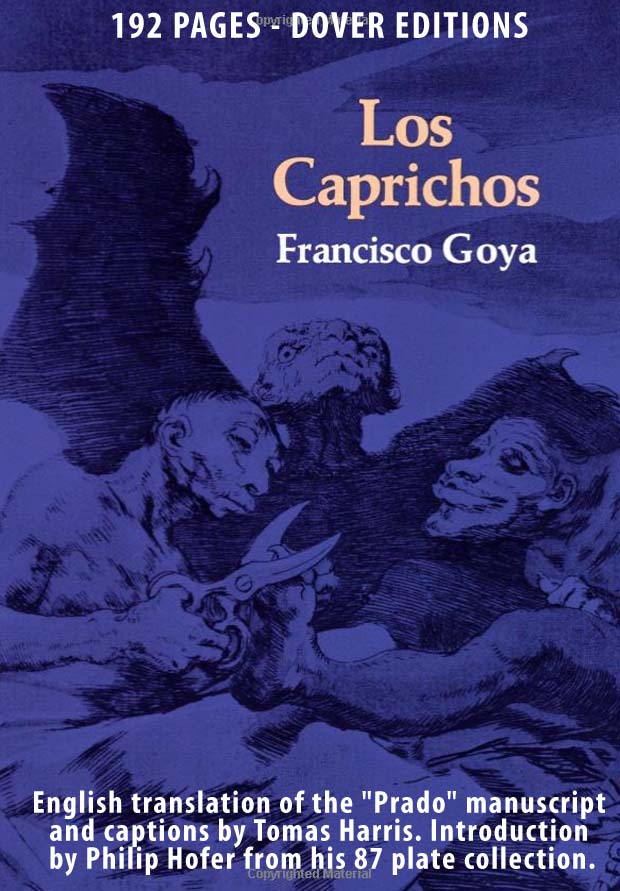 GOYA : Los Caprichos - Dover Edition - Amazon
---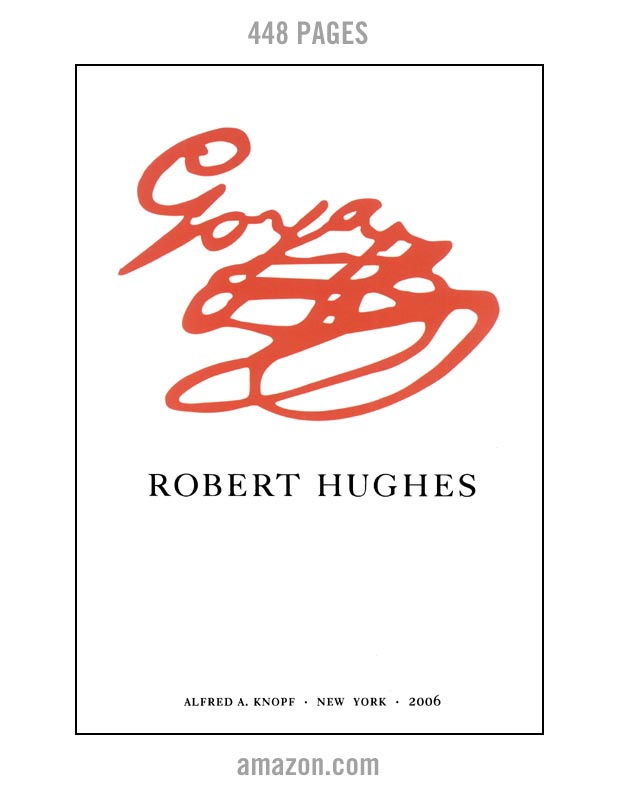 ---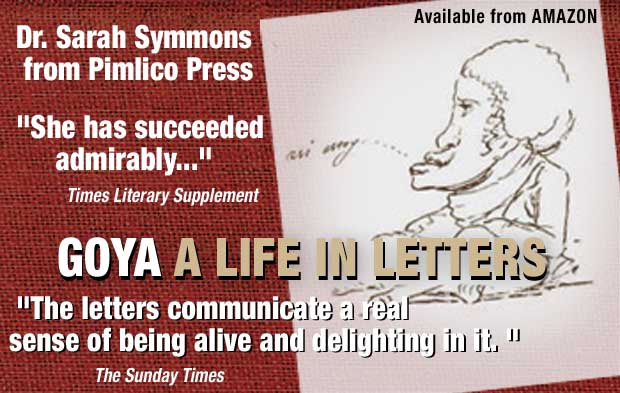 Goya: A Life in Letters
---