Goya Archive 2018-2019
---
Theatrical play The Deaf Man's House: A Capriccio on Goya
Theatre presentation about an elderly Goya in Bordeaux, his life told in flashback via Leocadia Weiss (who lived with Goya, along with her daughter Rosario, until his death). The play is a collaboration between Masakini Theatre Company and The Odin Teatret.
Article at MSN News
---
19th Duke of Alba's art collection includes Goya and Velazquez
Nov 27, 2019: Story at International Business Times
---
Queen Letizia of Spain opens new exhibition of Goya at Prado
"Queen Letizia presided over the opening ceremony of the exhibition, which offers a chronological tour of Goya's work and includes several of his drawings."
Nov 20, 2019: Article at Royal Central
---
Goya and the Prado bicentennial
Article at elpais makes the point that when the Prado opened 200 hundred years ago, Goya was considered the most important Spanish artist, and in a way, that is still true in the 21st century.
Article (in Spanish) at elpais
"...Miguel Falomir, director of the Prado, says: "They usually ask me about the convenience of exhibiting contemporary art in these rooms. But I think there is nothing more contemporary than Goya's work on paper. There is no current artist who has denounced our nightmares with that rigor and success. "
---
The Dark Originality of Goya – The Spanish artist's rarely exhibited drawings document a society torn by war.
Review of the new Prado exhibit and catalog of Goya drawings.
Nov. 8, 2019. Article at Wall Street Journal
---
The Black Paintings "decoded"
Oct 31, 2019: Article at Mutual Art that makes a survey of the painting group called 'the Black Paintings' (Goya himself did not refer to them with that title) and discusses Goya's artwork from both an early career perspective with a contrast to his later work.
"Goya's paintings are always defined by action. At one point, this was a social impulse. Later, it is the active opposite. And so the Black Paintings are not just representations of 'lack.' They are the willed purpose of non-being, the archetypal harbingers of the opposite of life..."
---
Movie being made of the theft of Goya's portrait of the Duke of Wellington in 1961
Story at UK Daily Mail
The painting was eventually recovered in 1965.
See more about this at Anniversary of Duke Wellington Theft
---
Goya and el Greco in Dallas
Exhibit "El Greco, Goya, and a Taste for Spain: Highlights from The Bowes Museum" is on view at the Meadows museum through January 12, 2019.
Review of exhibit at Dallas News
---
The chemistry of art
The scientist Geeta Govindarajoo discusses the chemical basis of art materials and how this creates a profile of a piece of artwork that can be used to peg it to a particular art period.
"One of the most common ways to detect art forgery is to determine whether the paint used is from the same location and time period as the artist. Art from the 16th or 18th century, for instance, like paintings by Michelangelo or Goya, would have contained lead and other elements you wouldn't find in paints used today. Another technique is the use of ultraviolet light that can detect antique varnish. So, what Penrenyi did was he used Q-tips to clean off antique varnish from old paintings, mixed the varnish that he squeezed off of the Q-tips with new varnish and used it over his paintings. Thus, the forgeries became undetectable to investigators," Govindarajoo said. "I was fascinated by the amount of chemistry involved, and rather than just talk about it, I would rather students watch the science in action."
Story at tapinto.net
Related: Goya and Authentication
---
Attempting to take selfie, woman damages Francisco Goya etching from the Los Caprichos (and Salvador Dali's version of the Goya piece)
Story at CNN News
---
Goya and Rembrandt etchings going up on auction
Sept 3, 2019: Images of the pieces and estimates of bids at Live Auctioneers
---
Oil paint deterioration of works by O'Keefe, Van Gogh, and Goya
Scientific examination of the process of oil paint aging - article at Eurekalert
---
Goya's Interior of a Prison part of Dallas exhibit Taste for Spain: Highlights from The Bowes Museum at the Meadows Museum
Article at Teesdale Mercury
Dallas TX Museum website here
---
Goya's Third of May 1808 painting banned on Chinese internet
August 7, 2019: Story at CNN on Communist government efforts to censor Tiananmen Square images and how unrelated art is considered "too similar."
---
The impact of Goya's Third of May
May 2019: Story at artsy.net titled "How Goya's "Third of May" Forever Changed the Way We Look at War"
---
The bleak Black Paintings
January 2019: Writer Stephen Phelan contemplates Goya's The Black Paintings and discusses the Prado's bicentenniel year.
Artice at UK Guardian
---
News May 29, 2018
World Goth Day: An anatomy of melancholy from Goya and Edgar Allan Poe to Bauhaus and Tim Burton - UK Independent
History of Humor in Prints and Drawings Opens at DC National Gallery of Art on July 15 - will feature Francisco de Goya among others - Press Release
Striking Goya print show launches Milwaukee Art Museum season of mastery - on milwaukee.com
---

---
AMAZON
Goya The Terrible Sublime - Graphic Novel - (Spanish Edition) - Amazon
---
Goya: His Life & Works in 500 Images: An illustrated account of the artist, his life and context, with a gallery of 300 paintings and drawings – 256 pages, Lorenz Books, 2015 - Amazon
---

"From this headlong seizure of life we should not expect a calm and refined art, nor a reflective one. Yet Goya was more than a Nietzschean egoist riding roughshod over the world to assert his supermanhood. He was receptive to all shades of feeling, and it was his extreme sensitivity as well as his muscular temerity that actuated his assaults on the outrageous society of Spain." From Thomas Craven's essay on Goya from MEN OF ART (1931).
"...Loneliness has its limits, for Goya was not a prophet but a painter. If he had not been a painter his attitude to life would have found expression only in preaching or suicide." From Andre Malroux's essay in SATURN: AN ESSAY ON GOYA (1957).
"Goya is always a great artist, often a frightening one...light and shade play upon atrocious horrors." From Charles Baudelaire's essay on Goya from CURIOSITES ESTRANGERS (1842).
"[An] extraordinary mingling of hatred and compassion, despair and sardonic humour, realism and fantasy." From the foreword by Aldous Huxley to THE COMPLETE ETCHINGS OF GOYA (1962).
"His analysis in paint, chalk and ink of mass disaster and human frailty pointed to someone obsessed with the chaos of existence..." From the book on Goya by Sarah Symmons (1998).
"I cannot forgive you for admiring Goya...I find nothing in the least pleasing about his paintings or his etchings..." From a letter to (spanish) Duchess Colonna from the French writer Prosper Merimee (1869).
---
---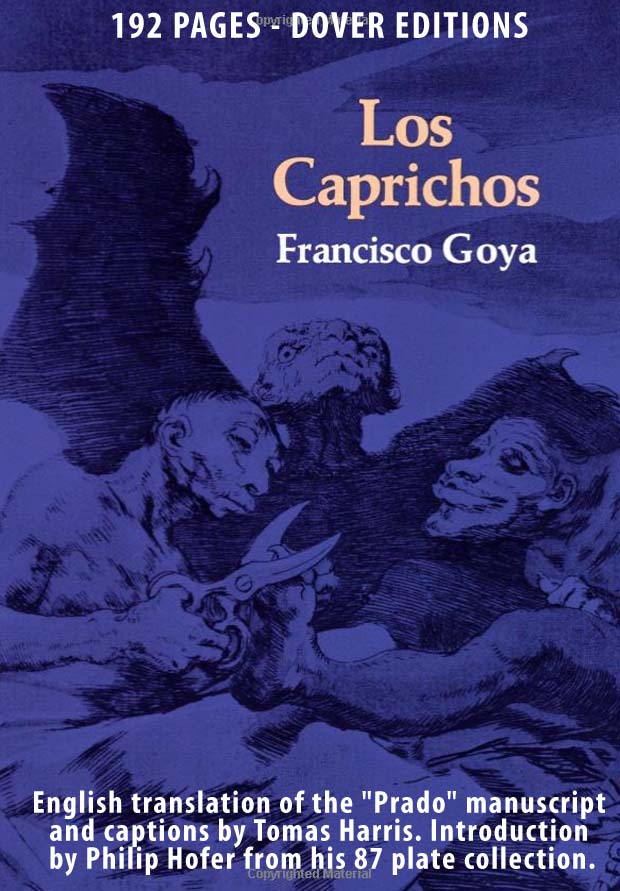 GOYA : Los Caprichos - Dover Edition - Amazon
---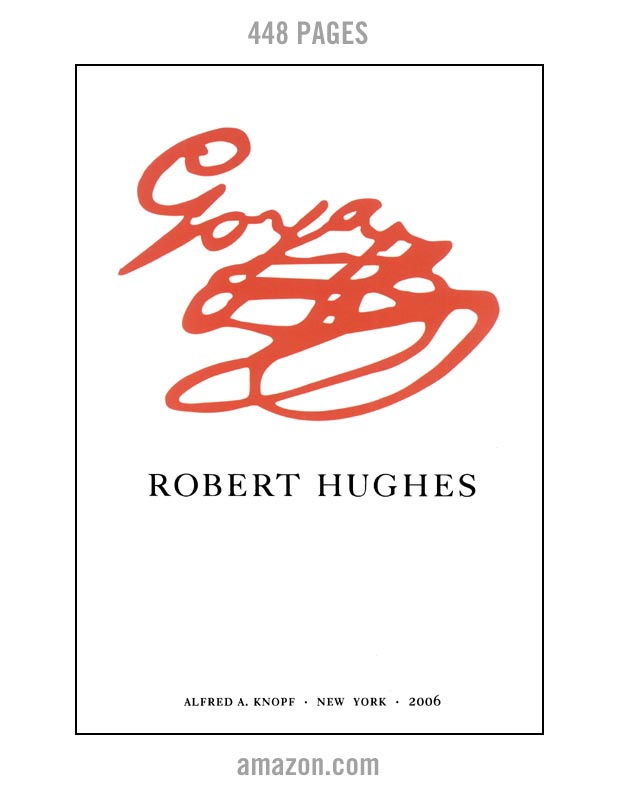 ---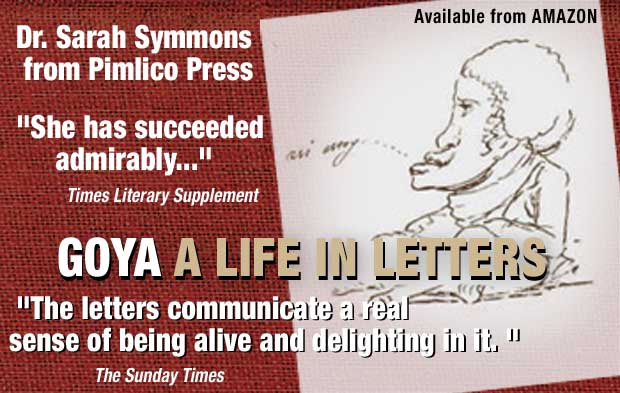 Goya: A Life in Letters
---