About the USS McKean DD-784
Named after Commodore William Wister McKean, Union squadron commander, born 1800 – died April 22, 1865.
---
---
About the McKean
Gearing-class destroyers were utilized by eleven different navies of the world, first the United States, where the program began during World War II (with the launch of the USS Gearing* DD-710 on February 18, 1945), but later by ten other countries, including: Republic of China Navy, Hellenic (Greek) Navy, Republic of Korea Navy, Spanish Navy, Turkish Navy, Pakistan Navy, Argentine Navy, Brazilian Navy, the Mexican Navy, the Ecuadorian Navy, and Islamic Republic of Iran Navy.
Originally 152 Gearing destroyers were planned, but only 98 were completed. Of these 98, only 5 are known to still be in existence, preserved or in storage. The remaining 93 were either sunk, scrapped or used for target practice (for example, the McKean, spare parts removed, the hulk sunk by a Harpoon missile launch in July 1987 at Antalya Bay). DD-784 was the second ship of the USN to carry the name.**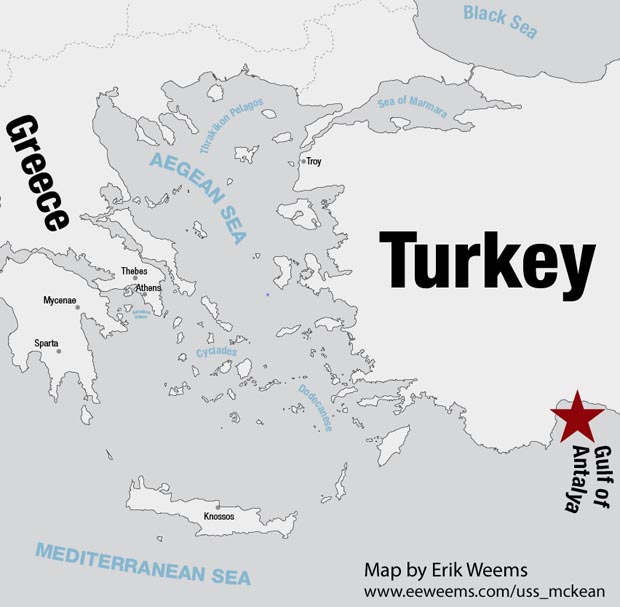 Gearing destroyers were updated versions of the Allen M. Sumner class destroyers (58 were built), the main difference being a 14 foot length difference which benefitted the Gearing destroyers with larger fuel tanks and thereby larger performance range.
USS McKean (DD-784) was the 18th Gearing-class destroyer of the United States Navy. The McKean was built by the Todd Pacific Ship Building Company in Seattle, Washington State (during the time of the Gearing program, other Gearing destroyers were built in other shipyards on the West Coast and also in Texas and New Jersey). The USS McKean launch date was March 31, 1945. Decommission was October 1, 1981, followed by transfer to Turkey, November 2, 1982.
McKean Military service:
Korean War: 7th Fleet, McKean under the command of Cdr. H. L Reiter, Jr., USN.
Vietnam War: 7th Fleet, Commander J. E. Mitchell.
Significant dates:
March 31, 1945: Launched
Late 1945: Occupation force duty in Japan
June 1950: Joins 7th fleet in Korea, Task Force 77
Nov 1950: Commander John Weatherwax instated
Dec 1950: Duty with Task Force 72, Taiwan Strait, then participating in the Hungnam (North Korea) withdrawal of US forces on December 24. It is during this time the McKean, while working with Task Force 77, is believed to have sunk a Russian submarine.
Jan 1951: Duty with Task Force 95
Jan 1952: Designated DDR-784
1955: Participation in the nuclear test for Operation Wigwam.
1956: Visit to Melbourne, Australia
Feb 1964, FRAM refitting updating the McKean's anti-submarine capabilities.
July 1965: 7th Fleet with the South China Sea Attack Carrier Strike Group
Nov 1966: Rescue patrols at the Gulf of Tonkin
May 1967: Visits to Australia and then New Zealand to commemorate the Battle of the Coral Sea.
June 8, 1967: Back to home port of Long beach and then overhaul at Mare Island
March 1968: Duties along Japan, returned to Long Beach later in the year
1970: Training exercises along California and then returned to Western Pacific patrol
Nov 1971: Escorted British carrier HMS Eagle R05 (Audacious-class) to Sea of India
Dec 1971: Task Force 74, Bay of Bengal, returning to Long Beach at the end of the year
1972: The McKean is moved to the United States Naval Reserve
1981: Decommissioned
1982: Transferred to Turkish navy
1987: Sunk during exercises at the Bay of Antalya
---
Footnotes:
*The last Gearing destroyer was the USS Meredith, DD-890, launched June 28, 1945.
** The other USS McKean was DD-80, a Wickes class destroyer launched in 1918.
---
---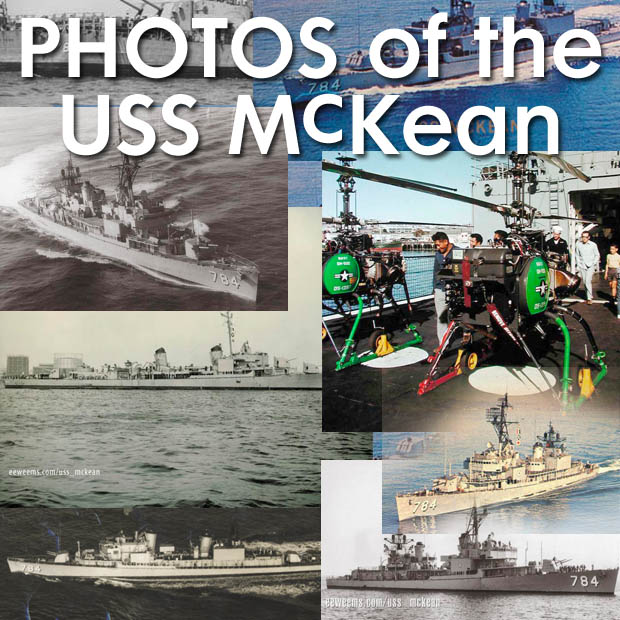 ---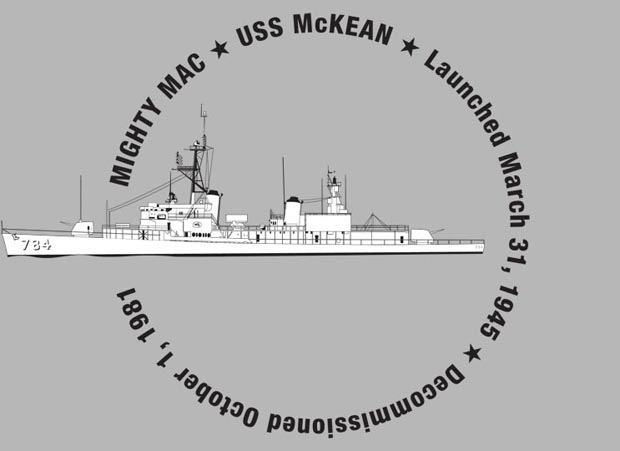 ---
See the 1968 Deck Logs archive here