Photos
USS McKEAN aka "Rancher" "The Mighty Mac"
---
---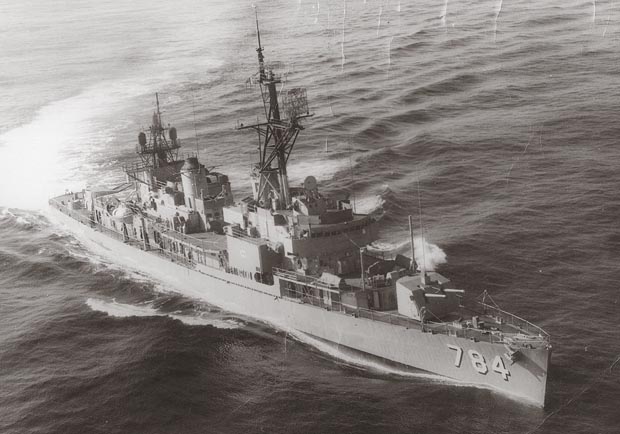 USS McKEAN (DD-784) was a United States destroyer of the Gearing Class. She was built by the Todd Pacific Shipbuilding Company of Seattle, Washington and was first commissioned on June 9, 1945.
USS McKEAN is named after Commodore William Wister McKEAN, a union squadron commander of the American Civil War. The McKean is the second ship of the American fleet to bear this name.
---
Photo - From about 1970 - USS McKean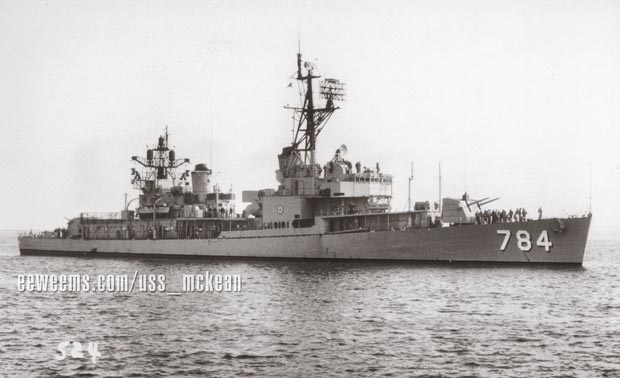 ---
A Korea War era photo of the USS McKean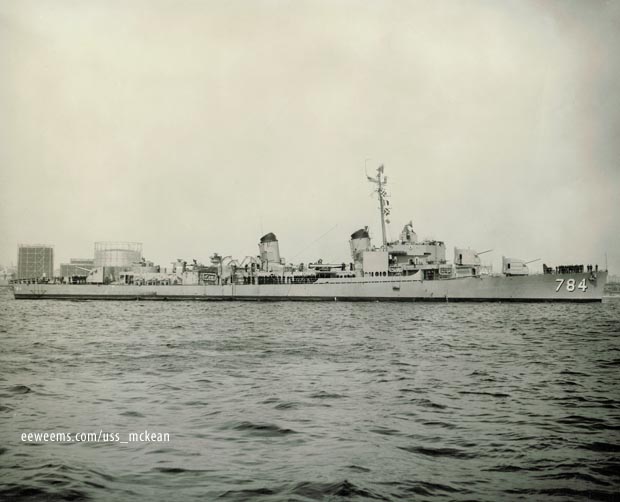 ---
There is a USS McKEAN REUNION web site.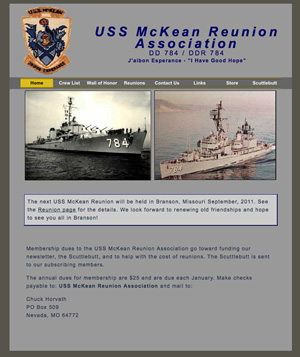 Site has photos, extensive list of crewmembers, list of diseased, a store and a newsletter, plus reunion news. (There is a reunion event planned for September 23 - 25, 2011 in Branson Missouri.)
---
Scan of circa 1966 USS McKean postcard handed out onboard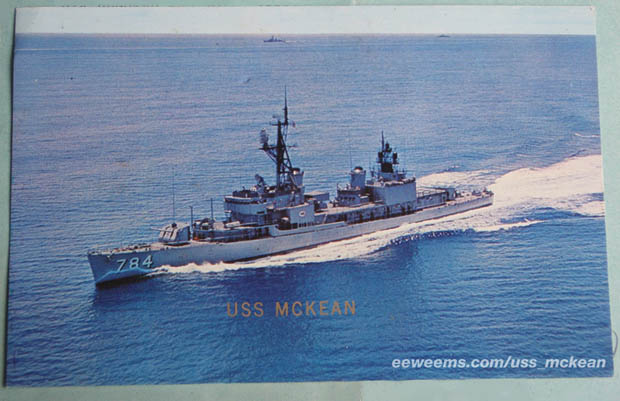 Click to see enlarged scan
---
1981 WELCOME ABOARD
See the four page "Welcome Aboard"
handout used on the USS McKean during 1981.
---
1951 USS McKean Photos
See two color photos of the McKean from circa 1951
(Photographs courtesy of the family of Ronald Burkhart BMSN.)
Click to enlarge to 1200 pixels.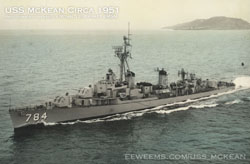 USS McKEAN CIRCA 1951
From Mr. Talbert:
"....Both are low altitude aerials, one from port bow and the other from the port quarter. I have no clue as to the history of the photos but from what I saw on your website, they were taken between 50 and 65. The #2 forward 5 inch mount is still there and there appears to be some sort of antenna array forward of the aft 5 inch mount. There is no ASROC."
---
USS McKean Outline Drawing


Click on the outline drawing to see enlarged drawing of USS McKean at 1000 pixels wide.
---
USS McKean Flight Deck
See three photos of the McKean from the 1967 visit to Auckland, New Zealand
(Photographs courtesy of Mr. Colin Hunter.)
USS McKEAN 1967 - USS McKean in New Zealand- USS McKean Flight Deck
---
USS McKean Circa 1965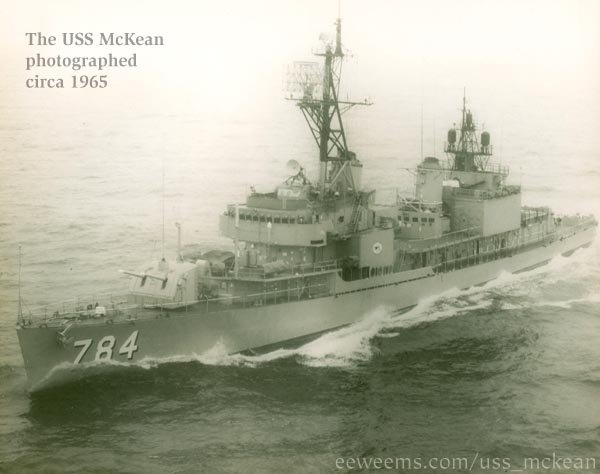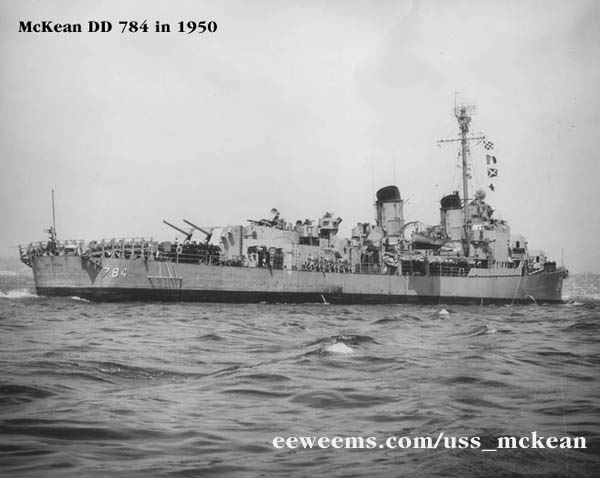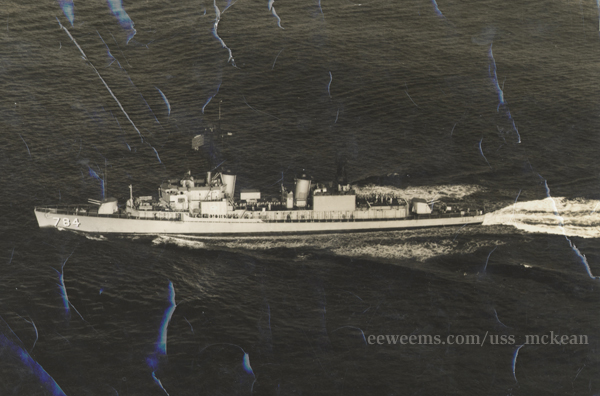 [Below] Postcard, circa 1972 (?)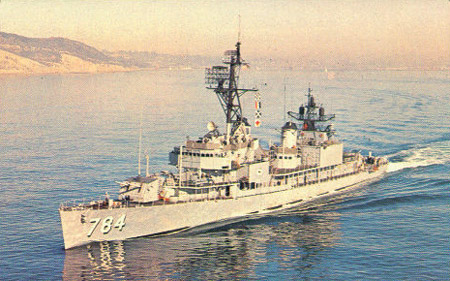 ---
USS McKean Recommission First Day Cover Issue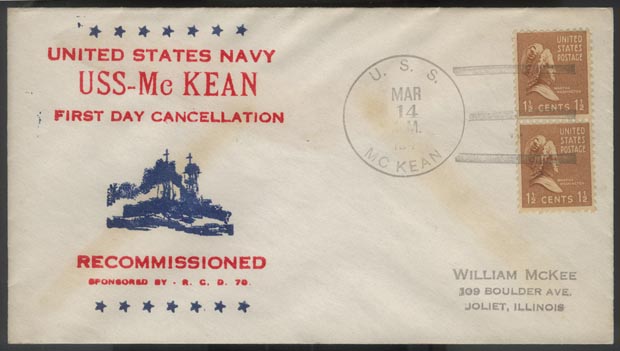 ---
---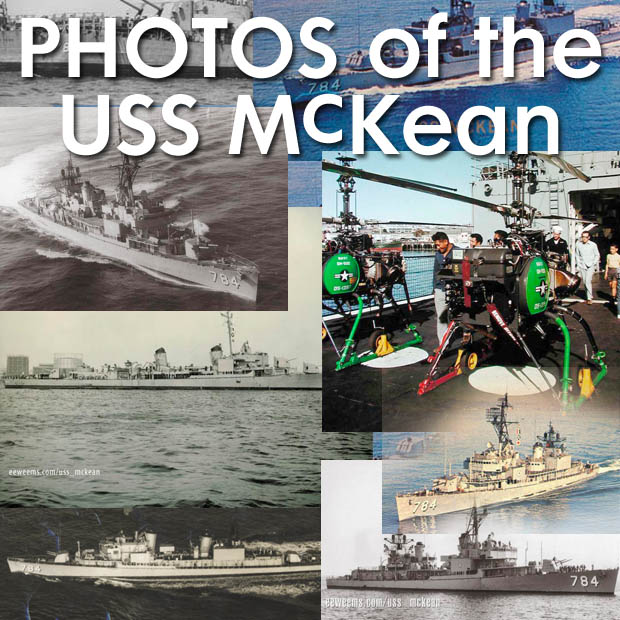 ---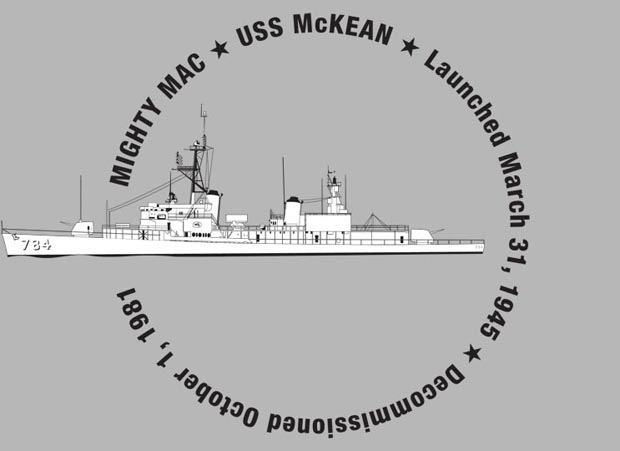 ---
See the 1968 Deck Logs archive here